Honor the impact they've made in your life with these thoughtful gift ideas for grandparents, ideal for birthdays, Grandparents' Day, and just because.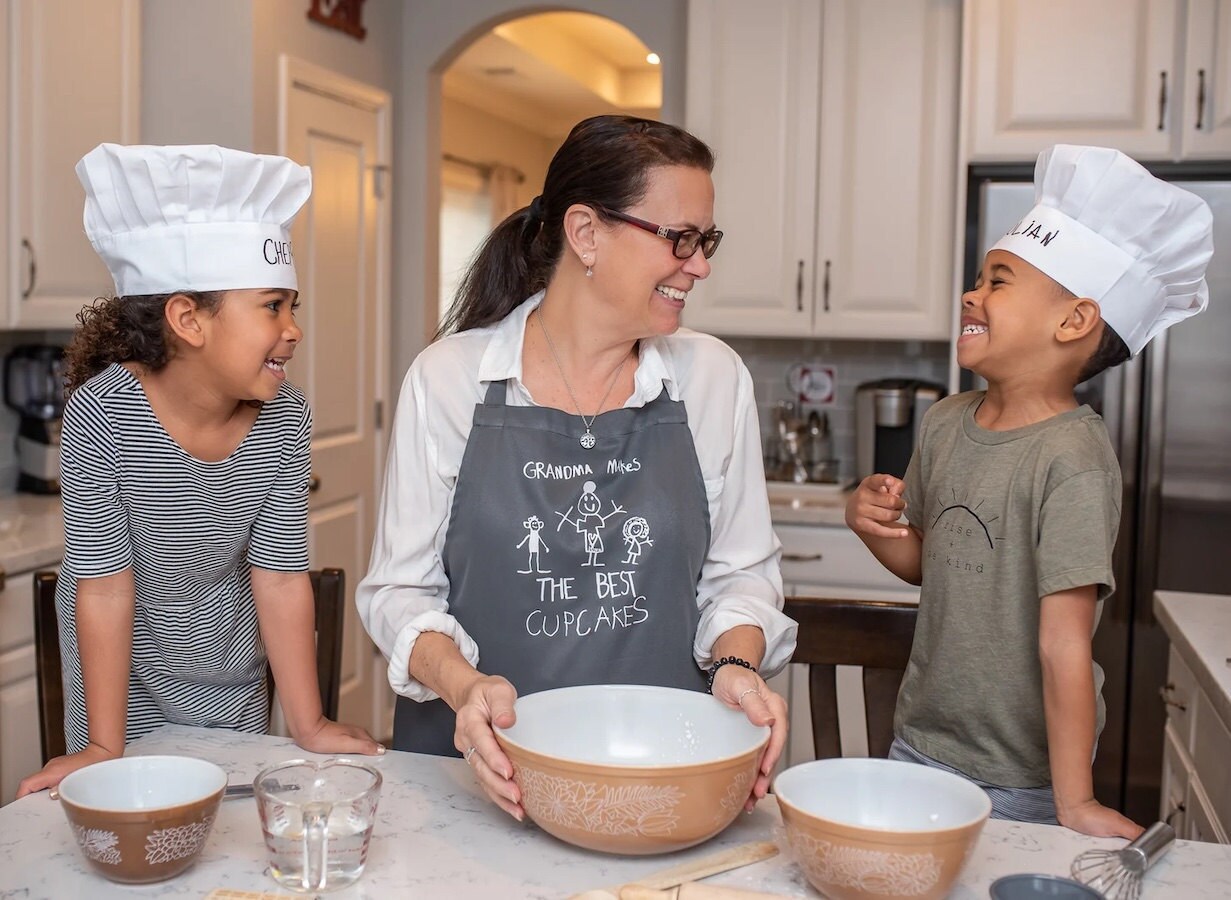 Since grandparents will rarely tell you what they would like as a present—often insisting that the only thing they need is for you to be happy and healthy—it can be quite tough choosing something that they will truly like. So instead, we turned to the gifting experts behind some amazing small shops on Etsy to put together this list of the best gifts for Grandparents' Day and beyond to express how you feel.
With unique items handcrafted with care and attention by independent sellers from all around the world, you'll be spoilt for choice with this curated selection of the best gifts for grandparents.
See our picks for the best gifts for grandparents:
When is Grandparents' Day?
Although you don't need a reason to celebrate just how special your grandparents truly are, Grandparents' Day is celebrated annually on the first Sunday of September after Labor Day. National Grandparent's Day in 2023 falls on September 10th and is the perfect opportunity to show these amazing humans just how much we adore and appreciate them (because, let's face it, we don't tell them nearly as much as we should).
Best gifts for grandma
Whether she's your personal Grandma-dearest or the most amazing grammy to your kids, let her know how important she is to you with one of these gorgeous gifts for her.
1. Spa box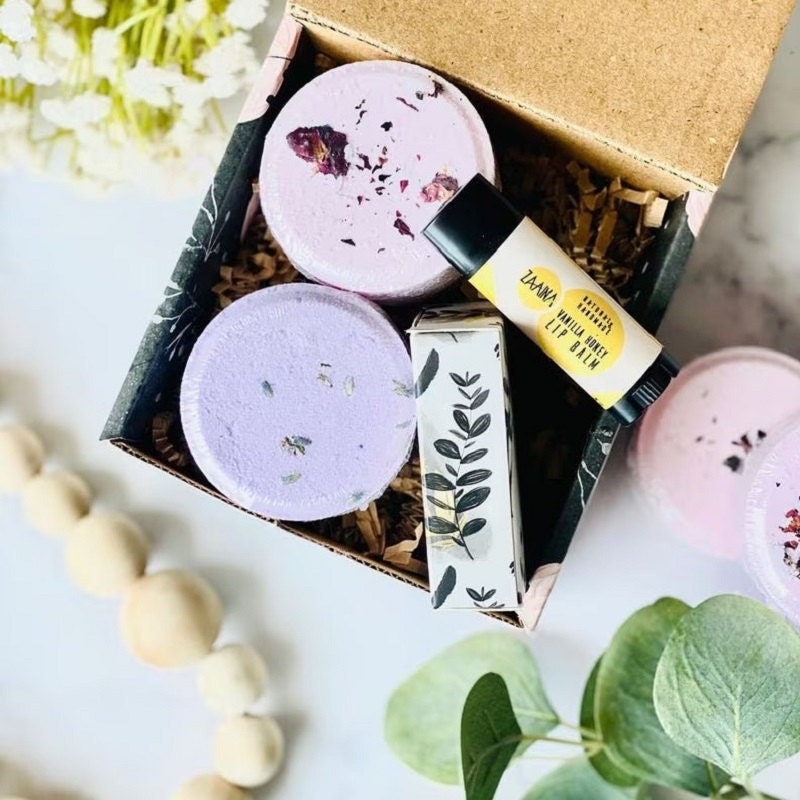 SHOP: Self-care spa box from ZAAINA, $32
If your grandmother is partial to a little spa day, or even if she's never set foot in one, pamper her with this self-care spa box filled with products made of natural ingredients. It comes in two versions—a bath box and a shower box—and includes aromatherapy soaps, lip balms, and either shower steamers or bath bombs that all smell delightful.
2. Felted wool slippers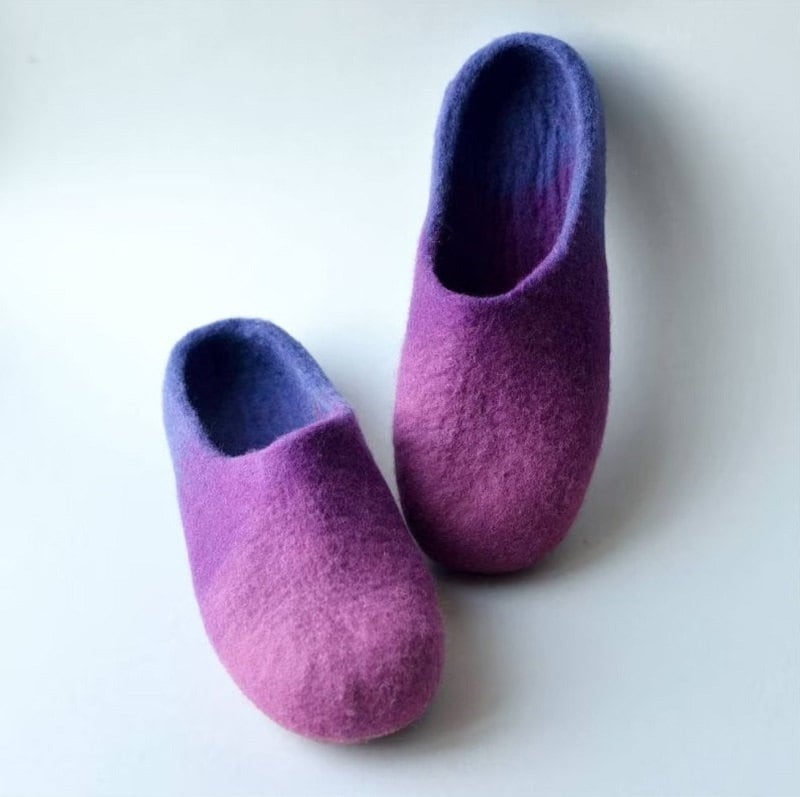 SHOP: Handmade wool slippers from RitaJFelt, from $55
Your grandma wouldn't be your grandma if she didn't constantly wear her favorite pair of slippers when at home. Gift her with a brand new pair of these handmade wool felted slippers in ombre hues of pretty pink and lavender. One shopper who bought them for her 90-year-old mother wrote, "The fit, color, and style were perfect; [Mom] says she may never take them off."
3. Gingerbread candle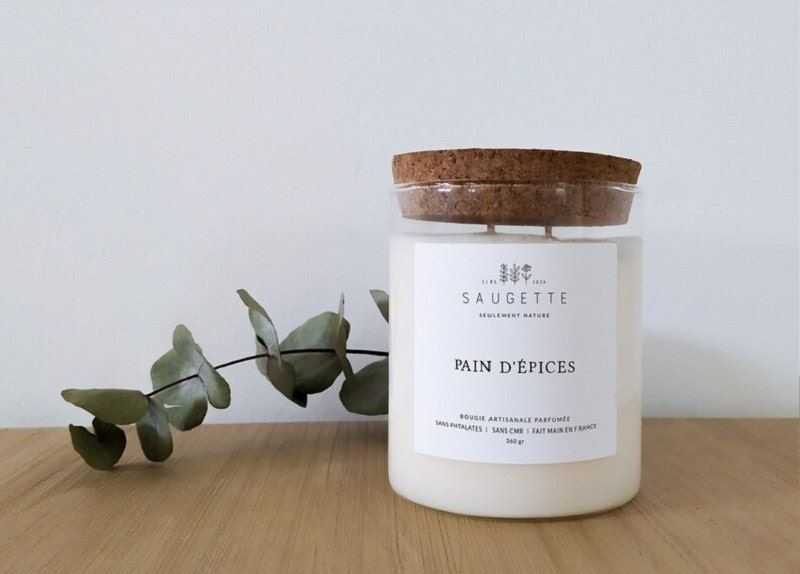 SHOP: Artisanal candle scented with natural soy wax from Saugette, from $23
Since your own cookies will likely never live up to the fanciful and delicious delicacies that Grandma has prepared for you over the years, reach for this artisanal gingerbread scented soy wax candle instead to fill her house with the beautiful aroma of freshly baked cookies.
4. Silk chiffon scarf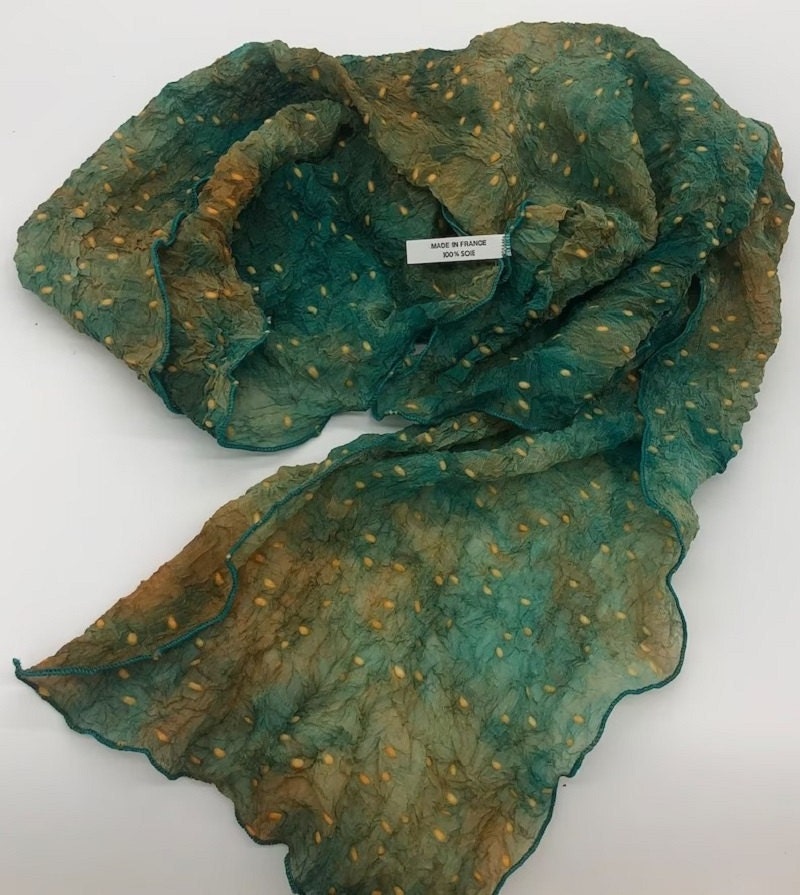 SHOP: Handmade silk chiffon scarf from French Fabrics Couture, $21
Make your grandma feel like a Hollywood starlet with this elegant tie-dyed silk chiffon scarf that is handmade in Lyon, France. It's available in either emerald green or beige, and one shopper, who bought it for her sister (who she described as "une artiste with exquisite taste") explained that she "raved about the packaging and the beautiful scarf… best gift ever."
5. Natural wool wrap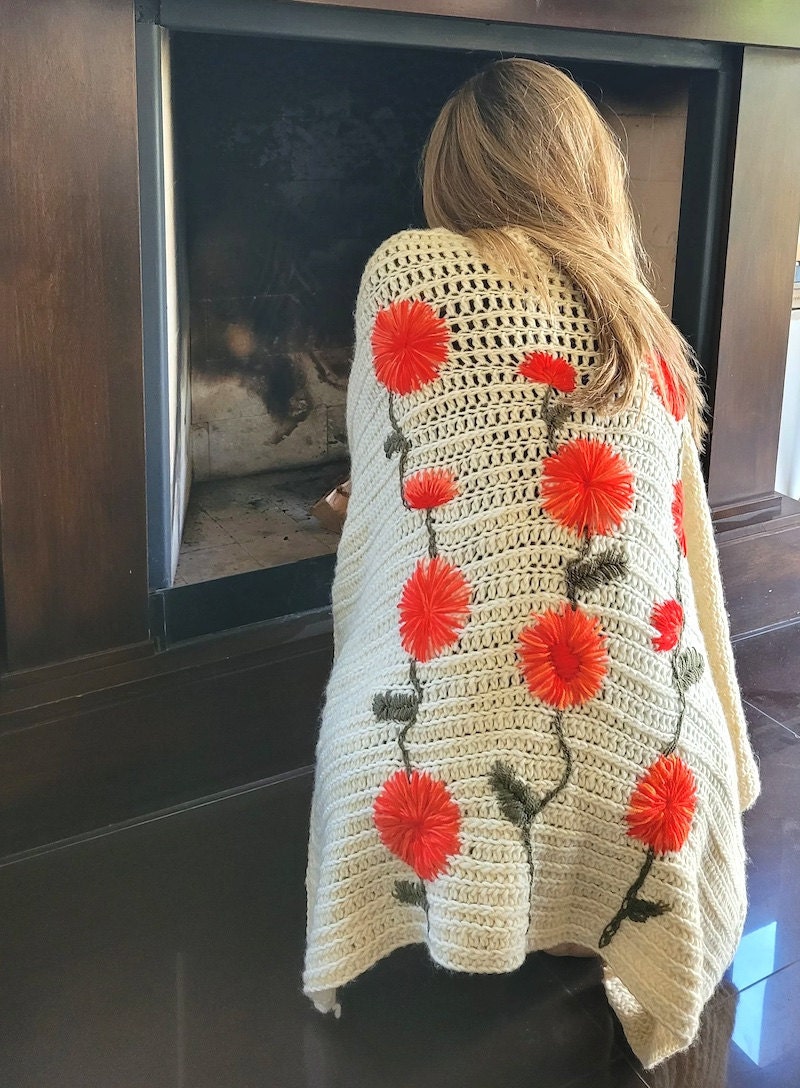 SHOP: Chunky natural embroidery wool wrap from Andes Handcraft, $220
This cozy chunky-knit wrap is handmade solely from real sheep's wool by a Patagonian artisan. Since no two skeins of wool are identical, each ivory scarf is one-of-a-kind, just like Grandma, and hand-stitched with coral flowers. It's large enough to be draped over the shoulders for some warmth on a chilly day.
6. Generations necklace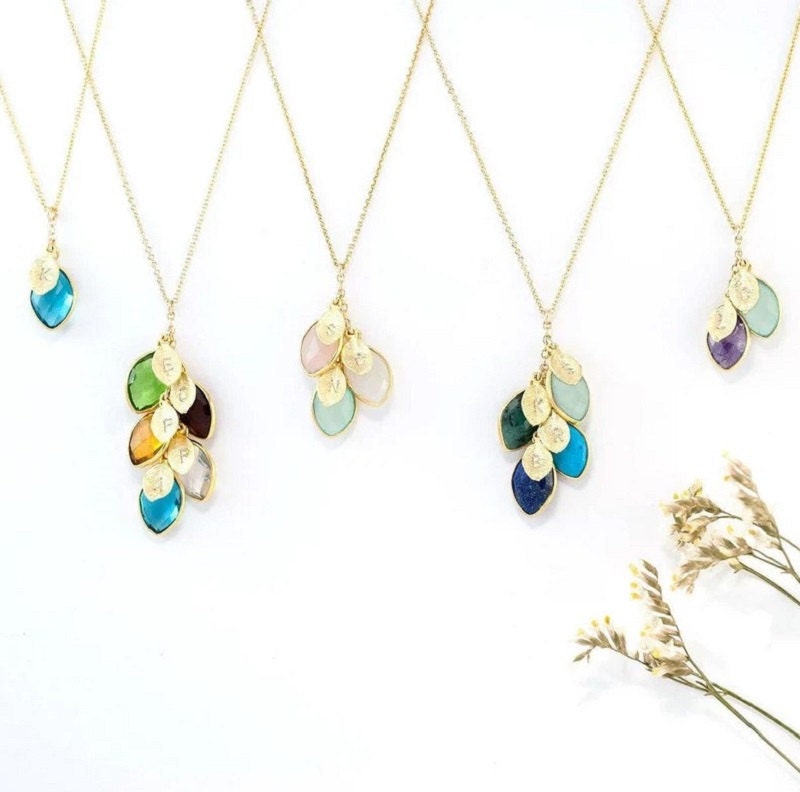 SHOP: Handmade birthstone necklace for Grandma from Delezhen, $41
Featuring gold drops with the initials of her children and grandchildren, as well as their individual birthstones, this unique personalized necklace is a gift your grandma will cherish forever. "My great grandma cried when I gave her this five generation necklace," wrote one sentimental shopper. "It was such a special moment."
7. Personalized wooden spoons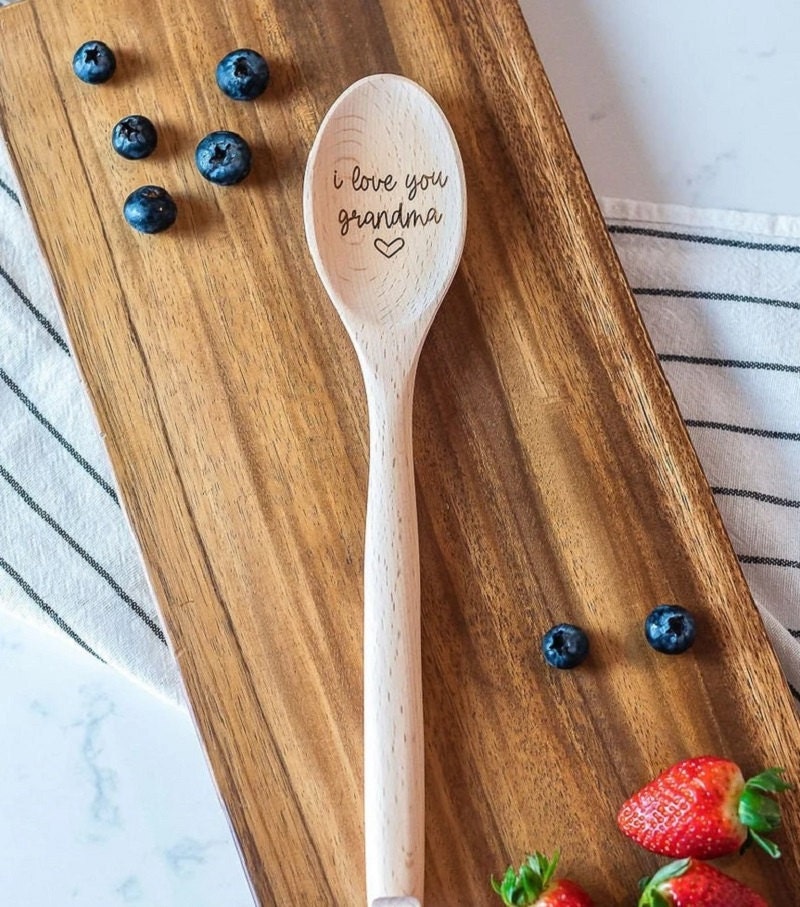 SHOP: Engraved wood spoon from Hearth & Table Co, $24
If you're after a gift that your grandma is sure to use (or at least see) everyday, a personalized wooden spoon is just the thing. Whether she wants to whip up her renowned cookie recipe with them (they're made from high quality, chef-grade, durable beech wood so they're up for the task), or keep them on display in a utensil pot, these spoons will serve as a constant reminder of your love.
8. Personalized photo locket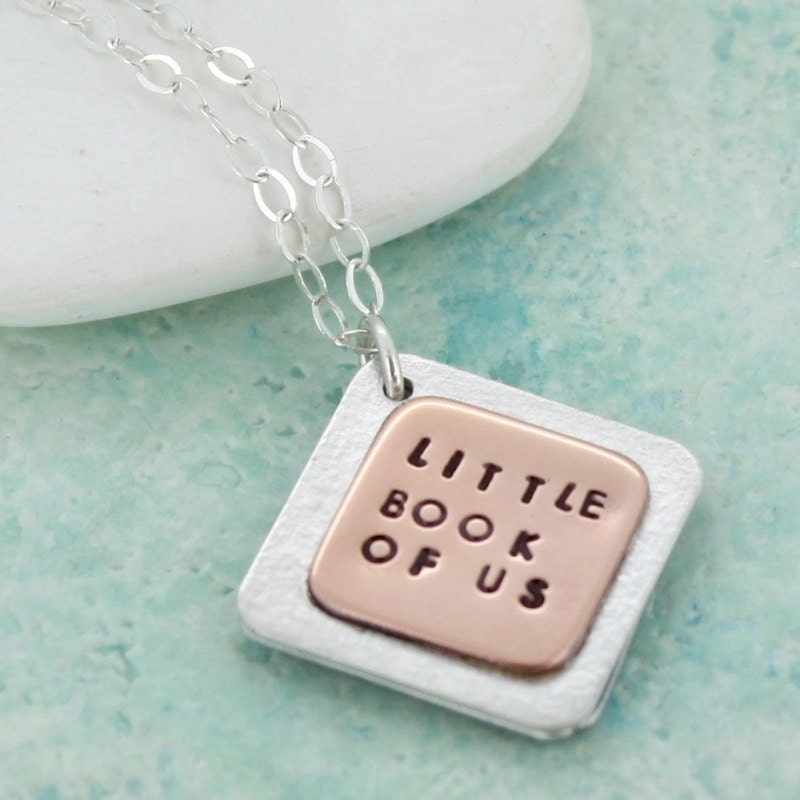 SHOP: Personalized photograph locket from Carole Allen Jewellery, $84
A locket with a twist, this photograph necklace is one piece of jewelry she'll never want to take off. More like a miniature book than a locket, it can feature up to eight photographs of her children and grandchildren behind a beautiful sterling silver and stamped copper pendant. "Absolutely, without doubt, the most beautiful piece of jewelry I have ever seen," one buyer raved, and another expressed that the "recipient [was] brought to tears."
9. Custom flower print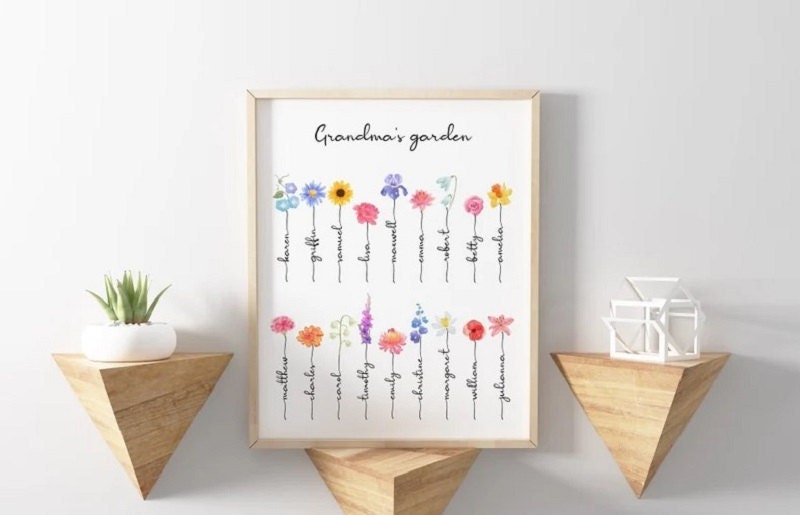 SHOP: Custom watercolor birth month flower from Annenguyenartist, from $12
Nothing brings a grandmother more happiness than the thought of her children and grandchildren flourishing. This custom colorful floral print has the names of all of her favorite people incorporated in the flower stems. It's a downloadable file meaning you'll receive it shortly after you complete the purchase (ideal for last-minute grandparent gifts!).
10. Personalized apron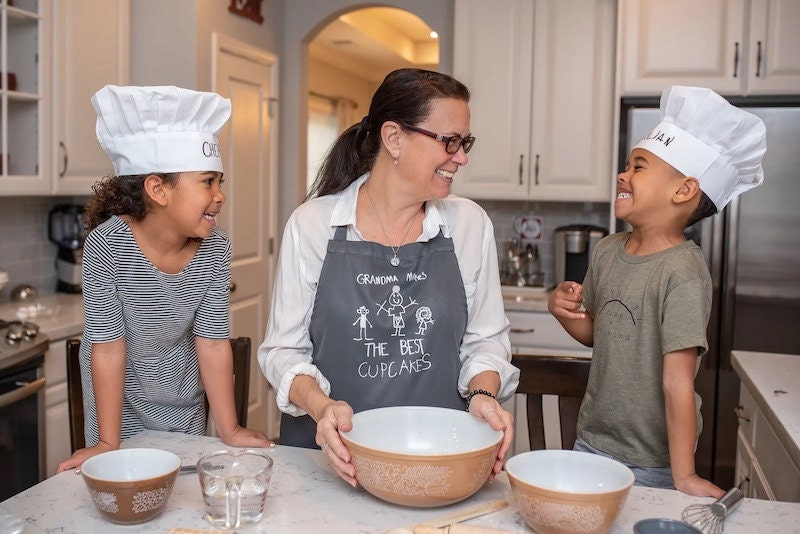 SHOP: Grandma's apron personalized with grandchild's artwork from Olive & Pip, $35
This custom apron is as practical as it is cute. It's handmade in a small English town and is personalized with your children's drawings. "It's absolutely fantastic," wrote a buyer. "I could not be happier… The quality of the apron and the print is wonderful; it looks even better than I had thought."
11. Personalized cutting board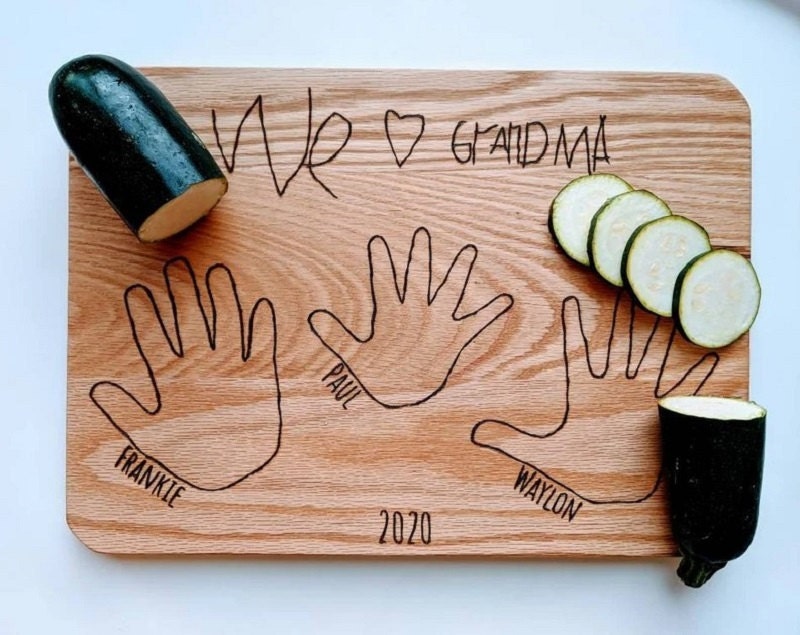 SHOP: Personalized handprint cutting board from The Potted Geranium, $197
Another useful and unique option, this handcrafted hardwood cutting board with your kids' handprints and handwritten dedication is sure to bring a smile to Granny's face every time she uses it (although, knowing grandmas, she might just keep it showcased on a shelf for all to see). One shopper who bought three of these for all the grandmas in the family wrote, "They were a hit! Everyone loved them and they were such great quality."
12. Modern silhouette portraits
SHOP: Unframed keepsake print from Devon Design Co, from $34
Made from premium, heavyweight matte paper in almost any color and size you desire, these unique personalized silhouette portraits will get Grandma inviting everyone over just to see them. "I am so in love with these pictures, and I am blown away at the accuracy," expressed one buyer. Another wrote, "I could not be happier with my silhouettes… I couldn't believe how well [the seller] captured my children."
Best gifts for grandpa
If you're stumped on what to get your beloved grandpa for Grandparents' Day, the small shops on Etsy have some of the best gift ideas for him he's sure to not only adore, but also make good use of.
13. Men's slippers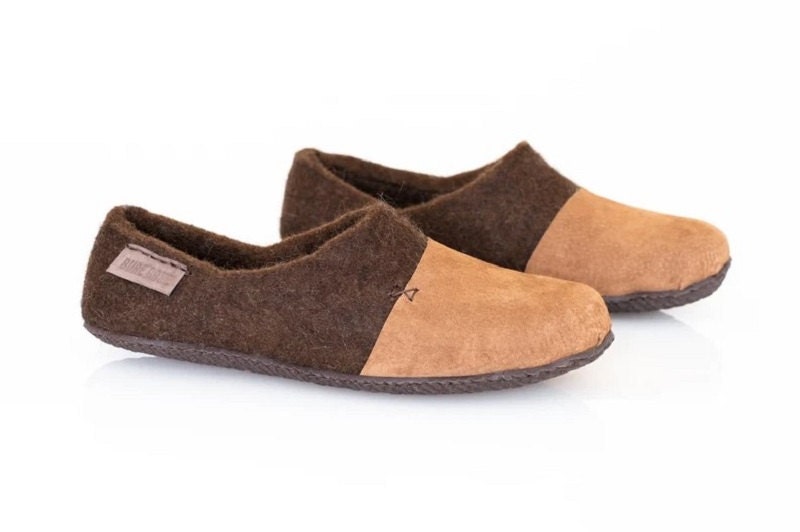 SHOP: Mens wool clogs slippers with suede toe caps from Bure Bure Slippers, from $101
Keep your grandad warm and stylish with these handmade wool slippers that he'll be proud to don when he goes out to fetch the mail. They come in three styles with either cork, suede, or rubber soles, and one happy shopper described, "These slippers have so much personality… I appreciate the craftsmanship that went into them every time I slip them on."
14. "Grandpa and me" line drawing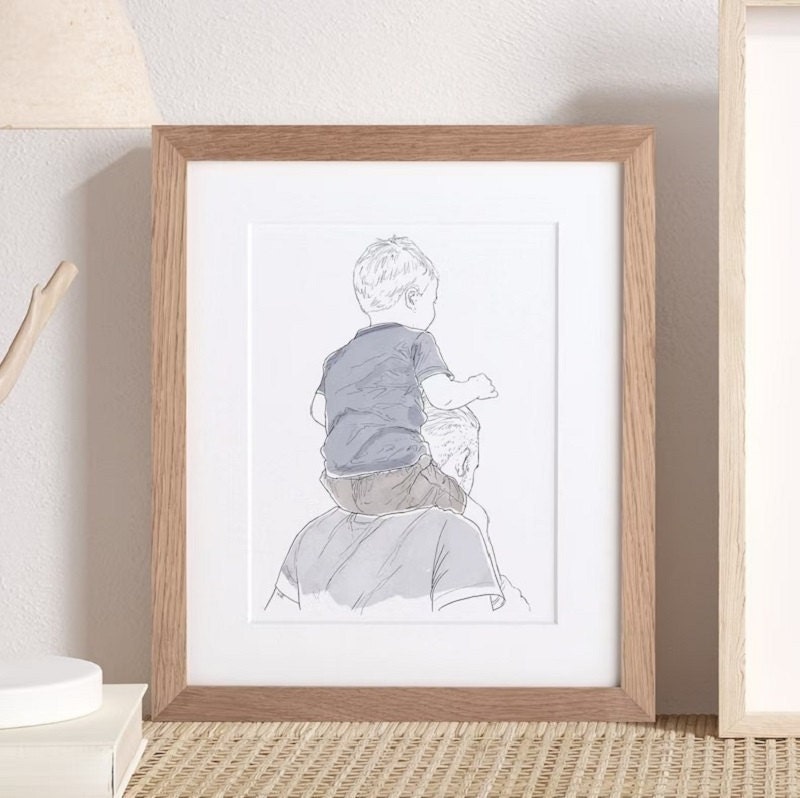 SHOP: Personalized daddy and children portrait from Letterfest, $87
The talented artists behind these bespoke drawings hand-illustrate them based on a photograph of your choice. Share a picture of you or your kids with Grandad, and let them work their freehand flowing line magic. It even comes in a frame, ready for you to gift. "I am so pleased with this picture," gushed a buyer. "[The] artist has really captured my son and grandson, and the mount and framing are lovely."
15. Personalized hammer
SHOP: Personalized engraved hammer from TIME & AGAIN, from $25
He may be retired, but that won't stop Grandad from getting out his old trusty toolbox and repairing everything in sight. This personalized hammer will make a smashing addition to his toolkit and can be engraved with his name or a sweet message. "This hammer was exactly what I wanted to show how much I appreciate all of my dad's hard work in my new house," wrote a buyer. "The quality is great!"
16. Grandad keyring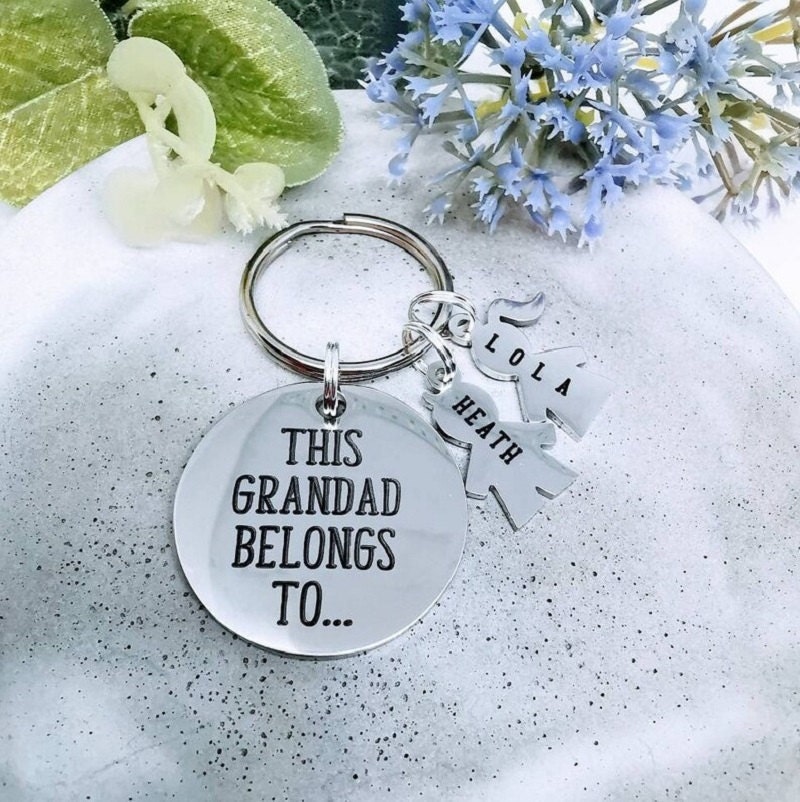 SHOP: "This grandpa belongs to" keyring from Elegance and Memories, from $13
For an affordable grandparents' gift that will always be on his person when he leaves the house, give Grandad this adorable keyring. It can feature up to six grandchildren and is made from a sturdy stainless steel. One shopper described it as "fantastic quality; not overly big, but still quite sturdy without being heavy," and another wrote, "My dad absolutely loved the keyring from my little boy… A gift to be treasured by my dad forever."
17. Personalized handprint plaque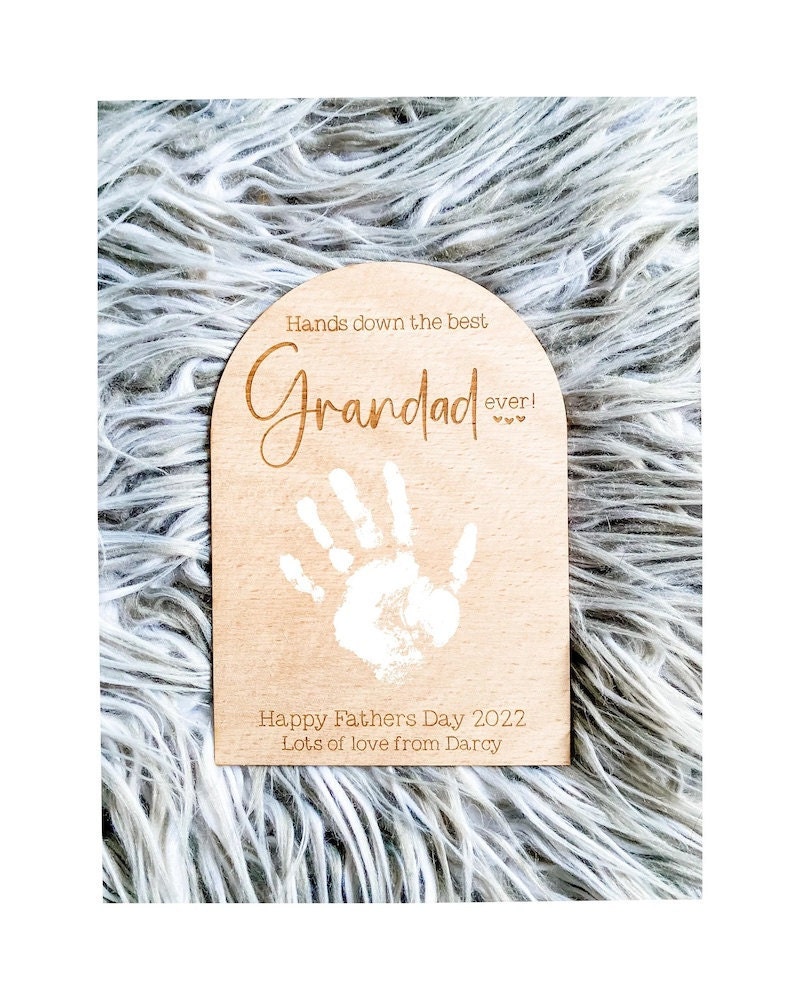 SHOP: Handprint personalized plaque from Indie & Sage, $21
Give gramps a high five from anywhere with this personalized handprint plaque featuring one of the grandkid's palm print. The best part is, you're in charge of adding the handprint once the plaque arrives. This means you can add a hand or foot, prints from multiple kiddos, or a paw print for the pet grandpa in your life.
18. Handmade chess board
SHOP: Handmade maple and walnut chessboard from A. P. Woodcraft, $150
This exquisite tournament-sized wooden chess board is one of those gifts that will get your grandad oohing and aahing (and no doubt challenging you all to a game). Handmade from maple and walnut wood, and carefully finished with a satin sheen, the board has rave reviews from many thrilled shoppers. "This chessboard was made by a master craftsman and it is absolutely stunning to behold," expressed one enthusiastic buyer. "[It] could easily last centuries. I am speechless."
19. Personalized golf divot tool set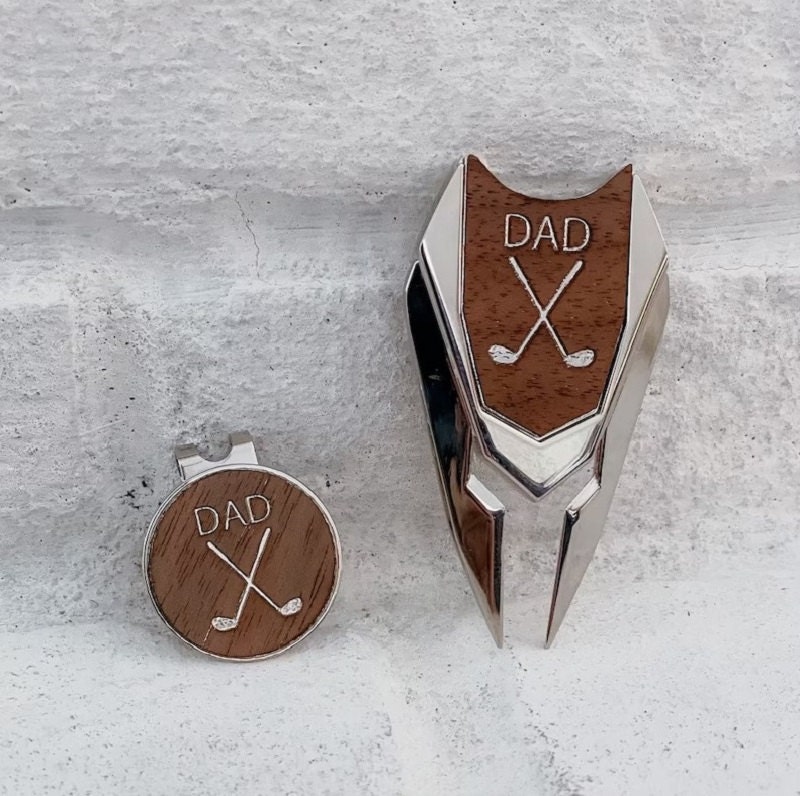 SHOP: Engraved wood golf ball markers from Girly Builds, $35
We haven't forgotten about your golfing grandads! This personalized combo kit for avid golfers comes with a divot tool and a hat clip in either a wood/gunmetal or wood/chrome finish. Both items are presented in a beautiful display case, and shoppers say that "the quality, workmanship, and detail is excellent," "looks exactly like the pictures," and one recipient wrote, "I will be the envy of all golfing buddies since I have logo ball markers. Perfect gift!"
20. Personalized Grandpa illustration to frame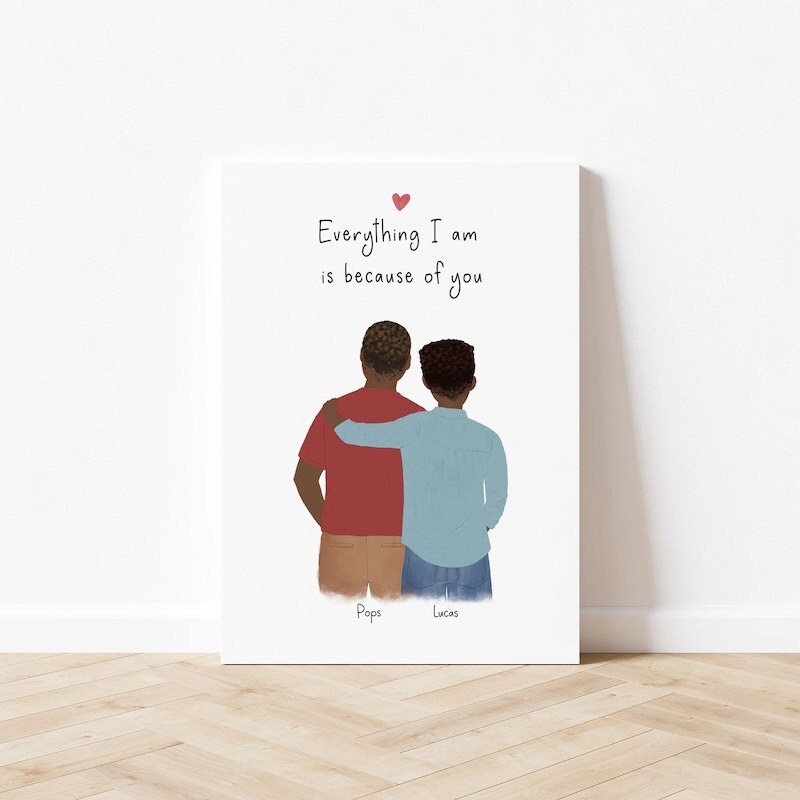 SHOP: Sentimental grandpa illustration by Catia Creative, from $25
Remind Pops this Grandparents' Day just how much he's influenced you as you've grown with this customized illustration. Add one or more grandkids to the mix, and request a custom message, too.
How do we pick the best gifts for grandparents?
As Etsy Journal editors and contributors research and curate shopping guides for some of the best-loved items on Etsy, we thoughtfully consider the creativity, customization, and craftsmanship that go into each product. We also consider buyer reviews, item ratings, and customer service, and tap the expertise of our in-house merchandising and trends experts to uncover high-quality finds for every budget. You can find more information about each item in the seller's listing details and can take a look at their individual shop policies and reviews, too.