Acknowledge her role in your big day and beyond with these sentimental, thoughtful maid-of-honor gift ideas made especially for her.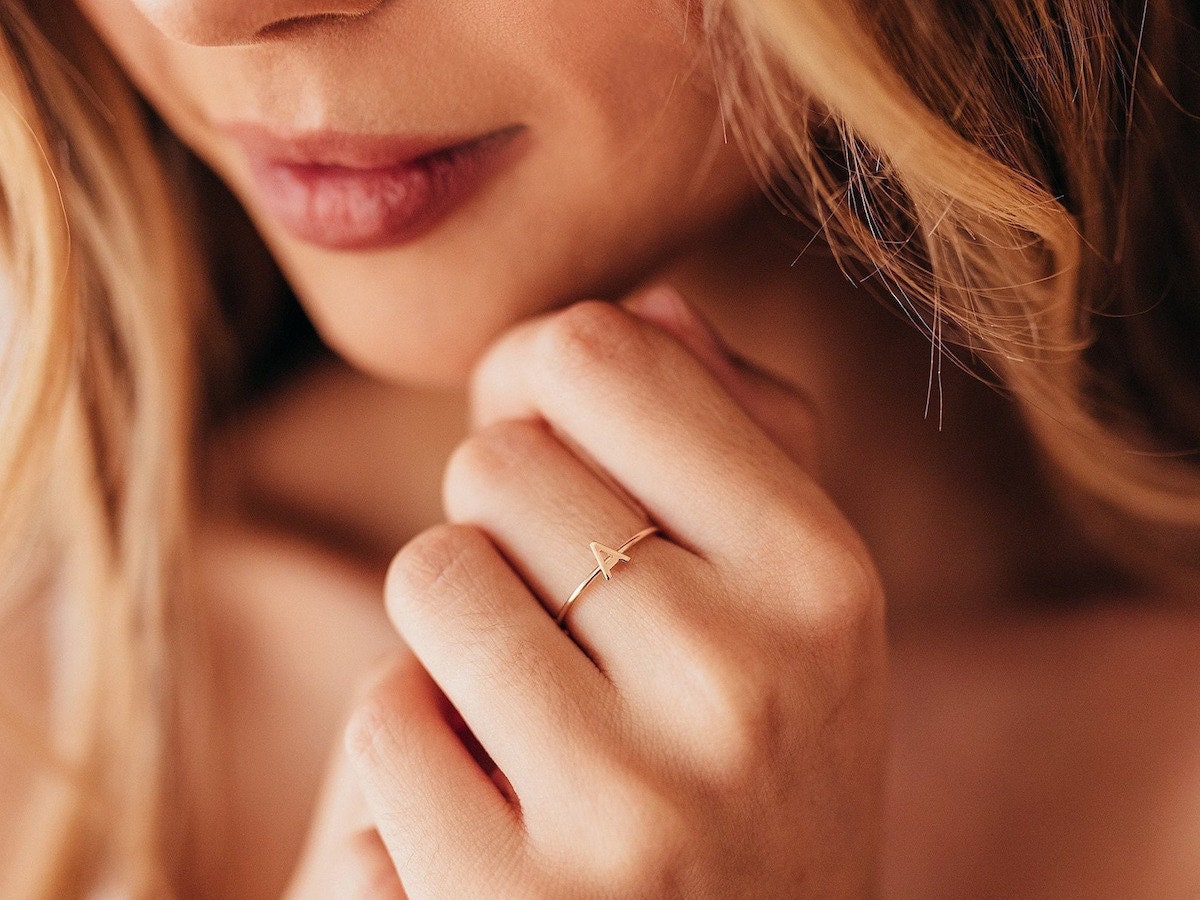 She's been by your side through thick and thin, and now she'll stand beside you on one of your most memorable days. A maid of honor gift is a simple way to remind her just how important she is to you. To thank her for everything she'll bring to the wedding prep—and wedding day—table, these maid of honor gift ideas are made in her, well, honor! Shop these gorgeous handmade items that any best lady is sure to love.
1. Luxe spa gift box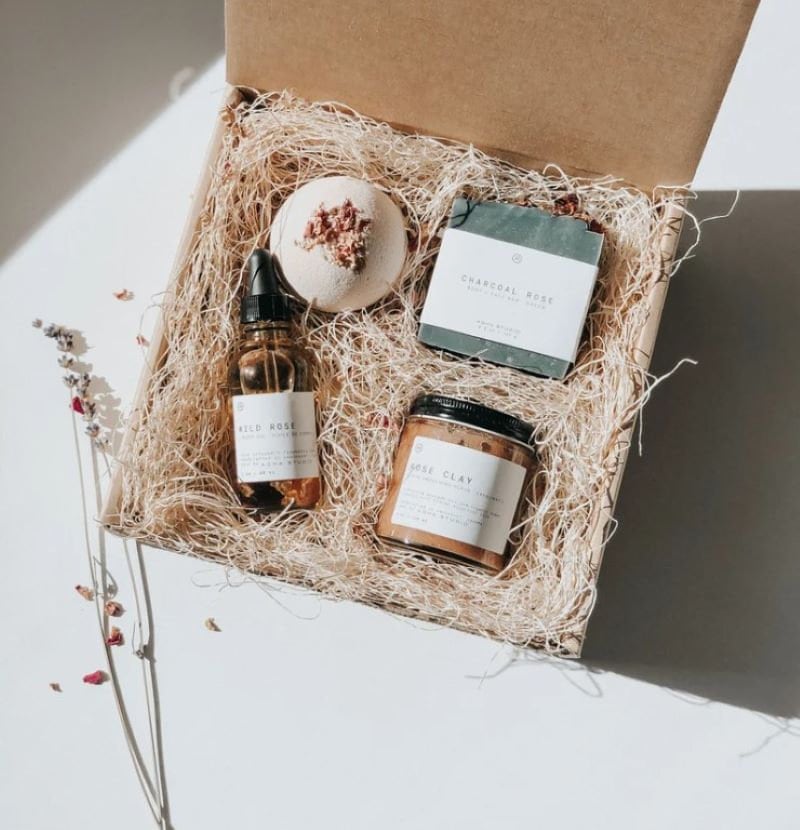 SHOP: Luxury spa gift set from Agha Studio, $84
There's no doubt that after all her wedding duties, your maid of honor will be in need of a little R&R. Provide her with everything she needs for a much-needed self care day with this luxe gift box. The kit includes a body and face bar, a body oil, a bath bomb, and a skin smoothing scrub, in the choice of five delectable scents. All items are palm-free and cruelty-free, with no artificial dyes or fragrances.
2. Pearl brass dangle earrings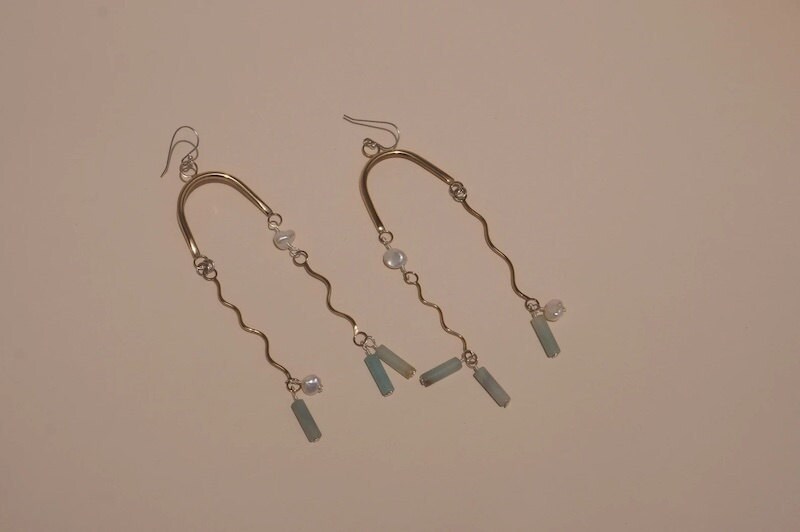 SHOP: Brass arch earrings from Aleishla Jewelry, $85
There's nothing quite like classic pearls to express your never-ending thanks and appreciation. These handmade pearl brass dangle earrings have a very unique style and can infuse glamor into any outfit (maybe even her wedding day look!). "These earrings are even more stunning in person," says one buyer review, and another adds, "Good quality and nice weight… The little cuts in the metal give it extra sparkle, like diamond-cut."
3. Paper bouquet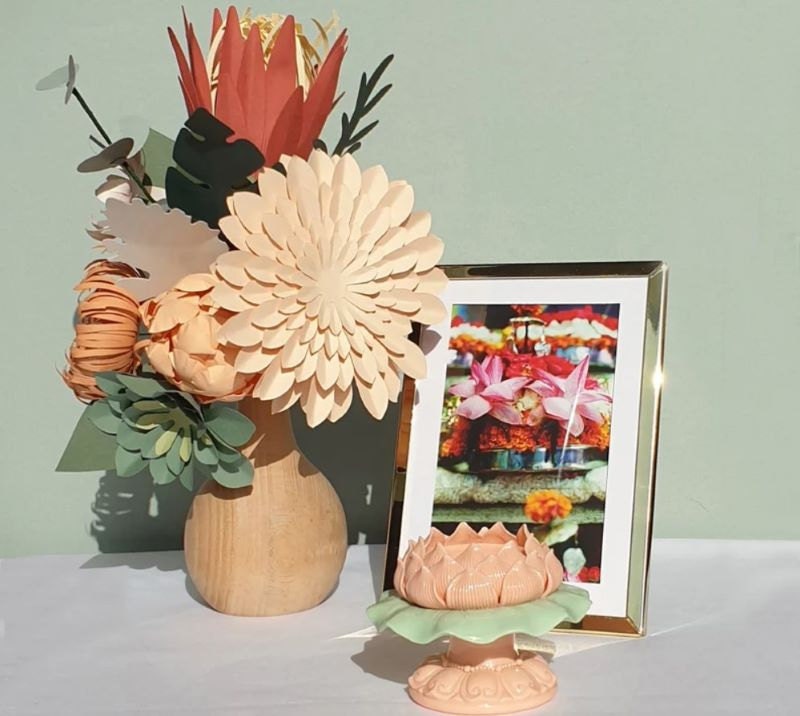 SHOP: Paper peony flower bouquet from A! Ne Hos, $97
Flowers are an excellent way to show thanks, but, unfortunately, they tend to wither away long before your appreciation does. For something more permanent, with just as much blooming sentiment as a fresh bouquet, opt for this handmade paper peony arrangement that comes with its own wooden vase. It'll last forever, and one customer review expressed, "Beautiful bouquet! Looks just like the photos. Made out of thick, strong paper, and the wooden vase is stunning!"
4. Oval signet ring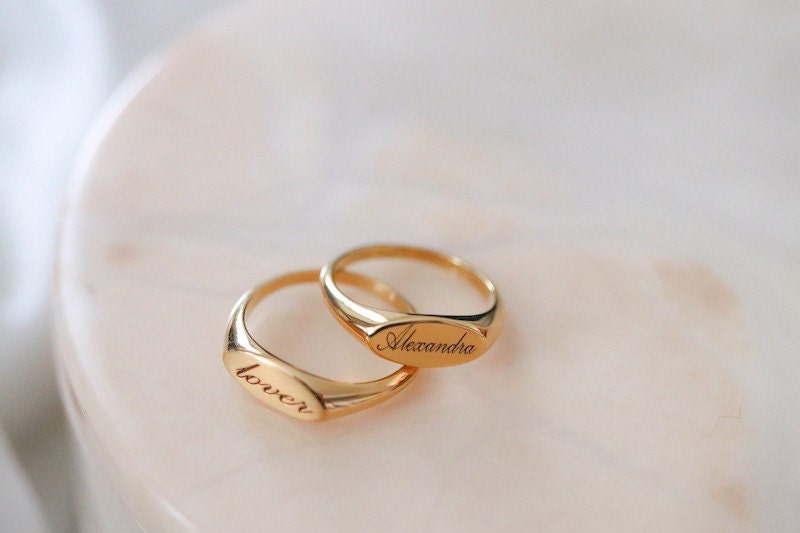 SHOP: Engraved signet ring from EVREN, from $81
This gorgeous and timeless oval signet ring, available in either sterling silver or 14K gold vermeil, is minimalistic chic personified. You can get it personalized with your maid of honor's name, and it's all but guaranteed that she'll never want to take it off. "My new favorite ring," wrote one thrilled shopper. "I wear it every day. Excellent quality! Stunning gold color and script font."
5. Lavender candle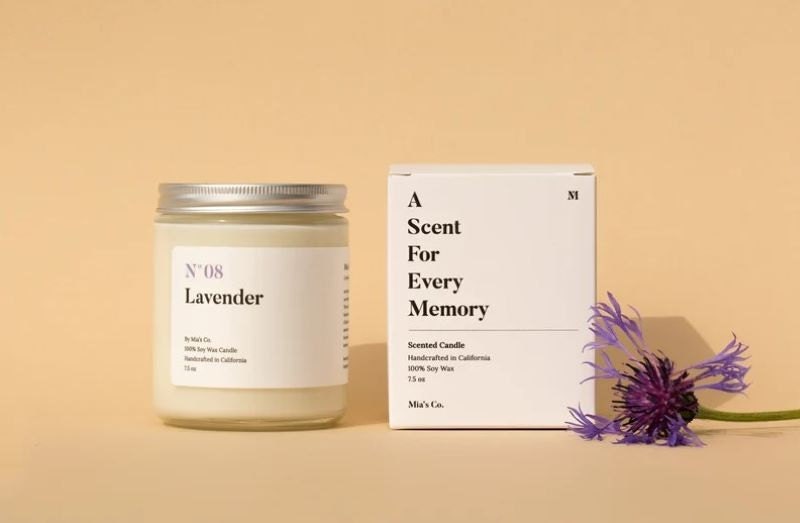 SHOP: Handmade soy candles from Mia's Co., $22
This maid of honor gift can help her wind down after the wedding celebrations with the relaxing scent of lavender. Buyer reviews say this candle "smells great" and has a nice "minimalistic design". Soy wax candles are known for burning longer and cleaner, and one shopper wrote of this cedar-based option, "The candle smells luxe and is making my home office environment so much more pleasant!"
6. Best friends portrait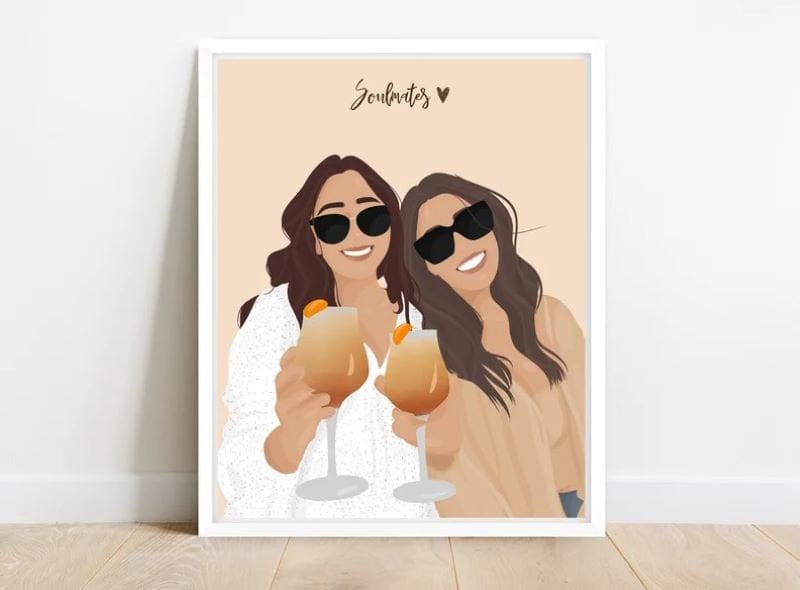 SHOP: Personalized portrait from Custom Art N Craft, from $33
You won't be able to wipe the smile from your maid of honor's face after she opens this extremely meaningful and personal portrait of the two of you. Available as a poster, or as a digital print (especially helpful if you're running behind on time), the designer creates the illustration based on a photo you send. One buyer wrote, "It is a beautiful gift, and very high quality workmanship (thick paper on the poster). And the customer service is just a dream; so friendly and customer-oriented."
7. Diamond starburst necklace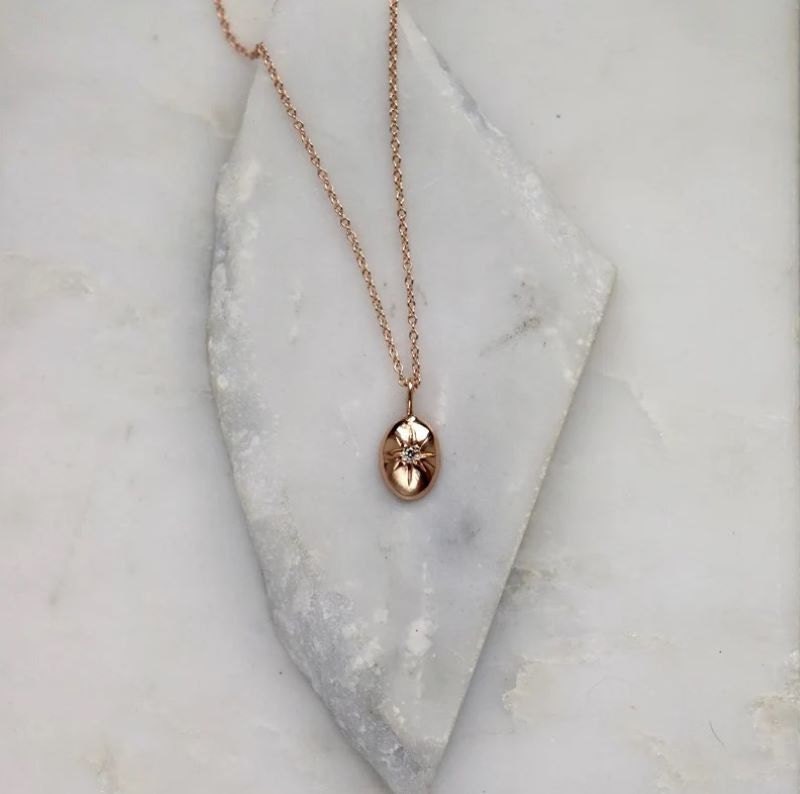 SHOP: North star necklace from Everli Jewelry, from $150
Diamonds are forever… just like your undying gratitude toward your maid of honor. This beautifully minimal diamond star necklace features a diamond encased in a choice of sterling silver, 14K yellow gold, or 14K rose gold, and you can even get it engraved on the back. "A beautiful piece," expressed one happy customer. "The star design is so classic and reminded me a lot of a ring my grandmother used to have… I'm intending to wear this everyday!"
8. Linen pajamas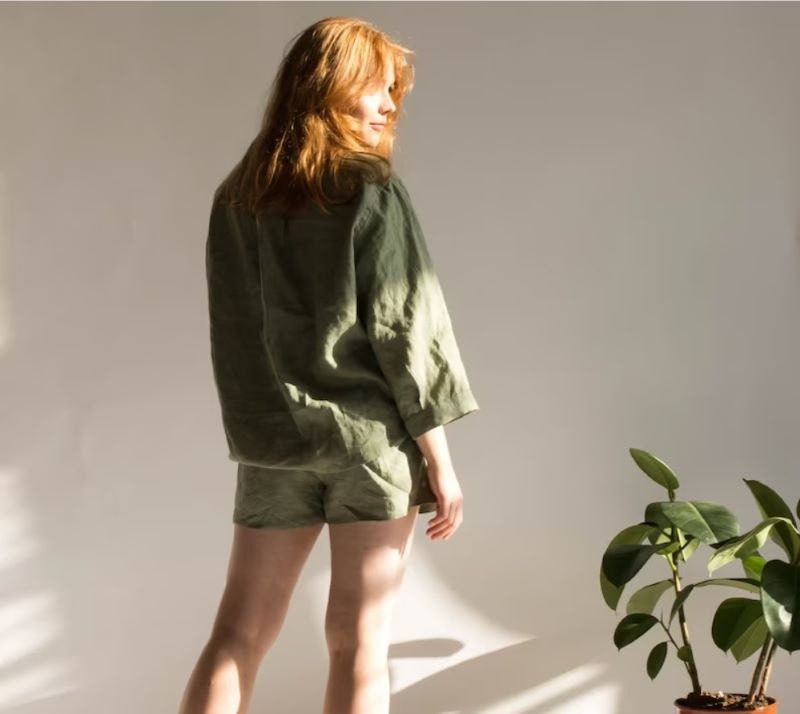 SHOP: Bridesmaids linen pajamas from Pavietra, $128
Practical and pretty, these luxurious, certified-organic linen pajamas are described in one buyer review as "the best, most comfortable, most flattering articles of clothing on the face of the planet." The set includes an oversized shirt with pocket detail and handmade stitches and a pair of loose-fitting shorts with a comfy elastic waist. Not your typical pajamas, customers say that they even donned them out, and "no one has suspected they were actually pajamas!" Bonus: You can grab matching pairs as a unique bridesmaid gift idea for the whole bridal party, too.
9. Eyelet etched serving board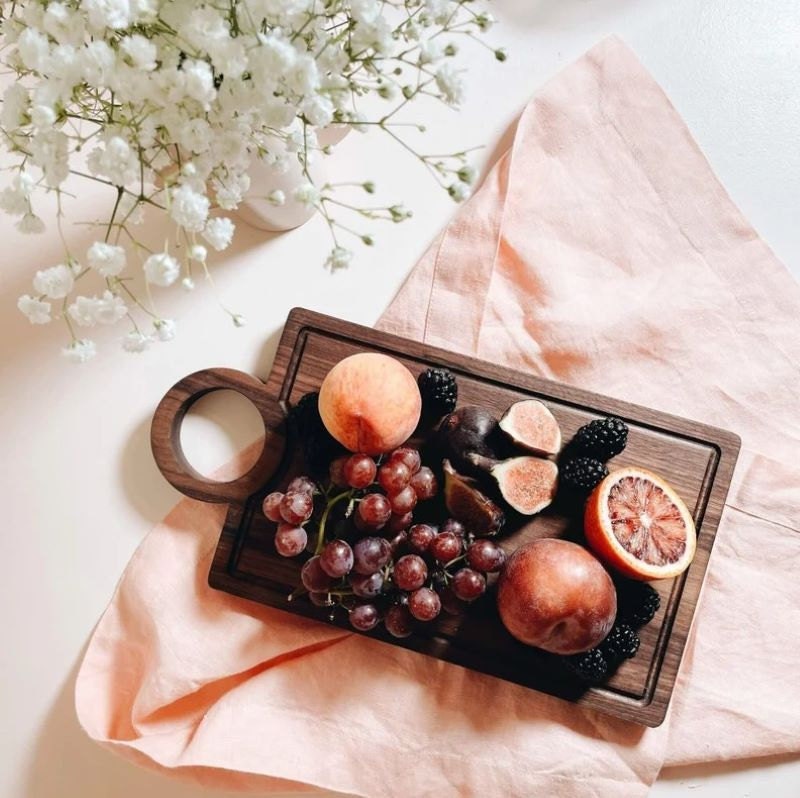 SHOP: Charcuterie platter from Warwood Made, $85
Whether for use as a charcuterie board, a cutting board, or serving tray, these exquisite handmade solid walnut wood eyelet boards make a beautiful and practical gift. Pretty enough to keep on display when not in use, this board features a grooved perimeter on one side to keep crumbs and juices from making a mess, with a smooth reverse for a more minimal aesthetic.
10. Blue stemless wine glasses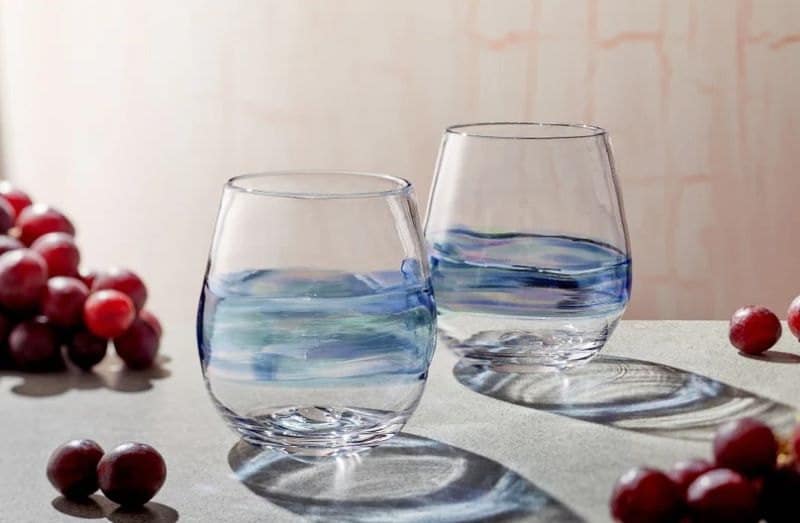 SHOP: Hand blown wine glass from Providence Art Glass, from $54
Hand blown with an exquisitely serene blue pattern, these stemless wine glasses will add a touch of class to your maid of honor's kitchen. Available as a single glass, or in sets of two, four, six, or eight, these wine glasses are described as "unique," "amazing quality," "beautiful," and "fabulous" by many satisfied shoppers.
11. Blown glass bud vase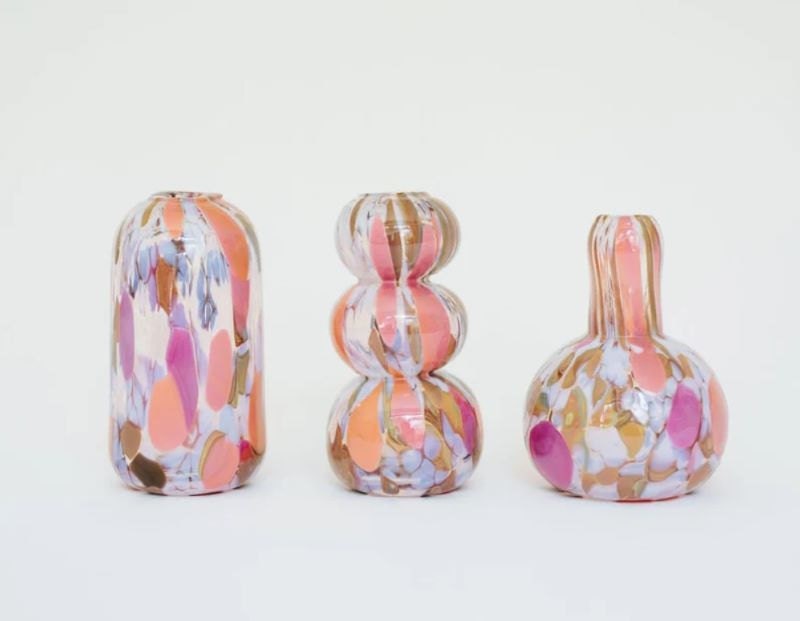 SHOP: Glass blown Neapolitan mini vase from Maria Ida Designs, $51
These mini hand-blown glass vases are the perfect addition to your maid of honor's desk, serving as a beautiful little something she can look at every day and think of you. "Gorgeous little piece," wrote one buyer. "Love how all the colors catch in the sunlight." Another customer review says, "Such a beautiful piece with subtle but pretty colors. Shipping turnaround was quick, as well!"
12. Gold initial ring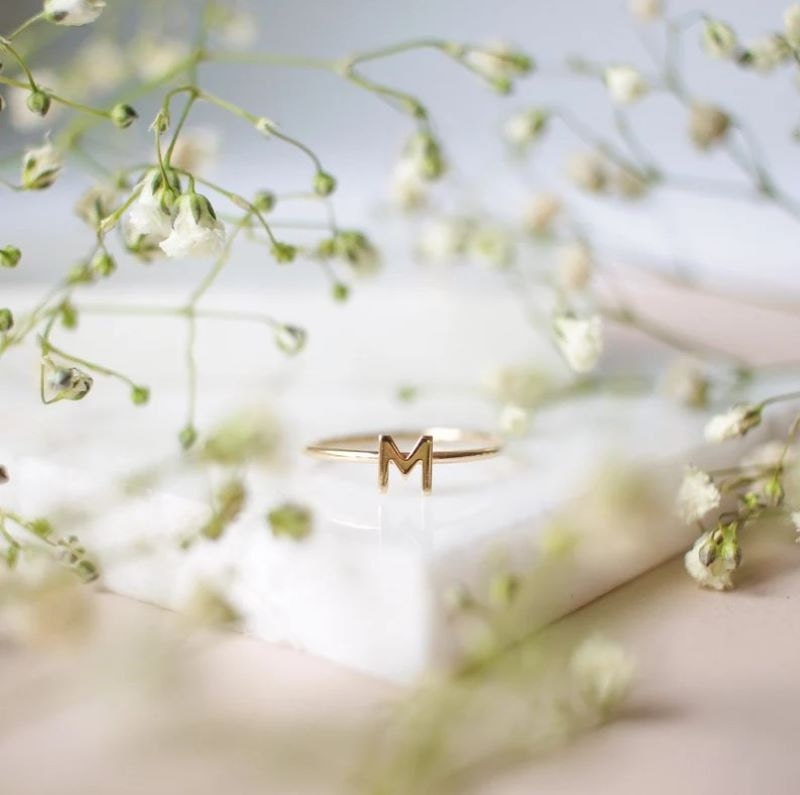 SHOP: Personalized gold ring from Nolia, from $42
Another personalized ring idea, this time with a little more of a dainty feel, this monogram piece looks gorgeous on its own or stacked along with other rings. Available in 14K solid gold or a more affordable 14K gold filled option, buyer reviews call it "adorable," "high quality," "really pretty," and "absolutely beautiful!"
13. Hair embroidery art class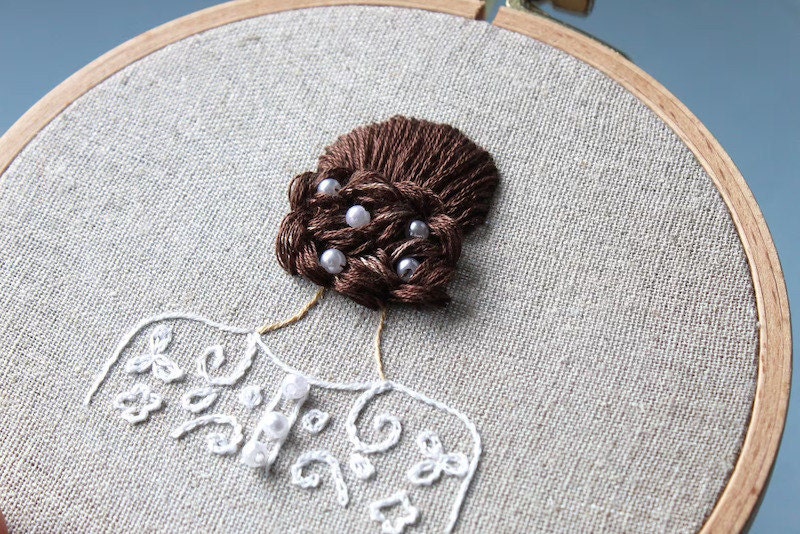 SHOP: Hair embroidery class from Bernita Broderie, $50
Your maid of honor, no doubt, has plenty of pictures of the two of you together, but it's unlikely that she'll have a beautiful personalized hand-embroidered piece of art. This online class walks you through how to customize an embroidery art piece especially for your maid of honor, maybe even highlighting the beautiful hairstyle she'll be sporting on the big day. Buyer reviews from this Nice, France-based shop are amazed at how professional, kind, and accommodating the seller is.
14. Handwritten letter transferred to glass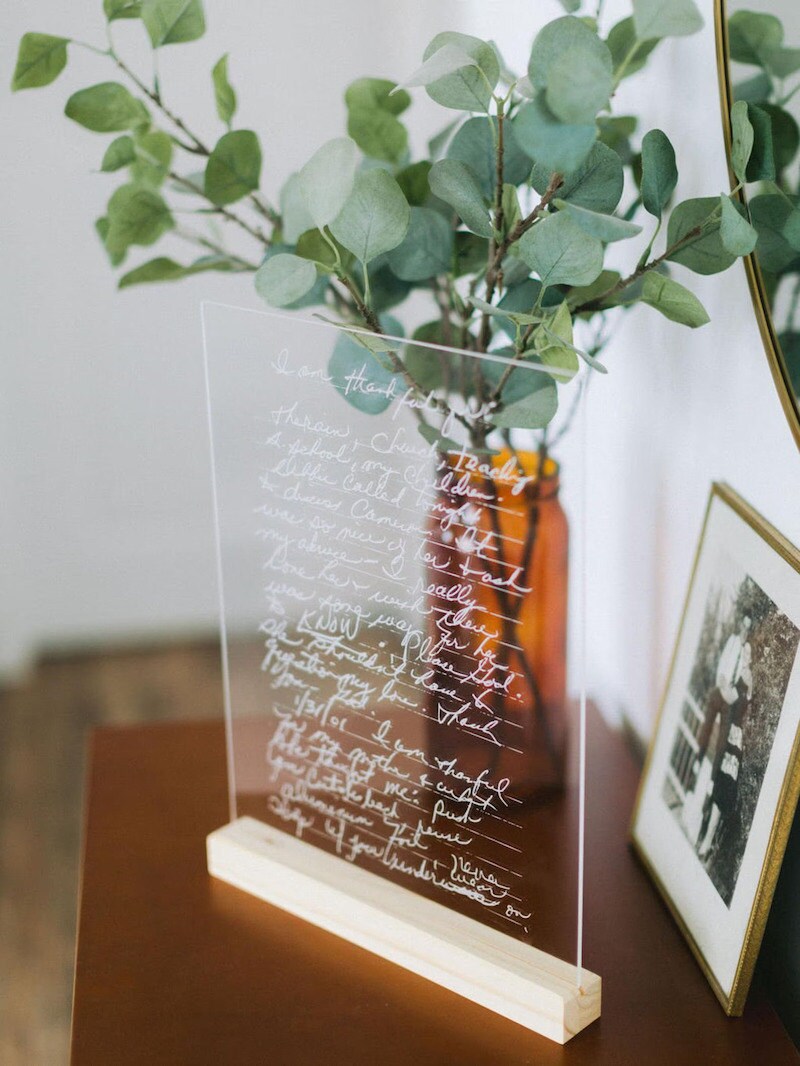 SHOP: Handwritten letter engraved on acrylic from Zehr Custom Engraving, $75
There's no doubt about it; you simply can't beat the charm and sentimentality of a heartfelt, handwritten letter. Upgrade this experience tenfold for your maid of honor by getting your words laser engraved on this acrylic stand that comes with its own wooden stand. "What a wonderful way to turn a beloved letter into a stunning display piece," wrote one buyer. "Could not be happier. Highly recommend."
15. Sideways initial necklace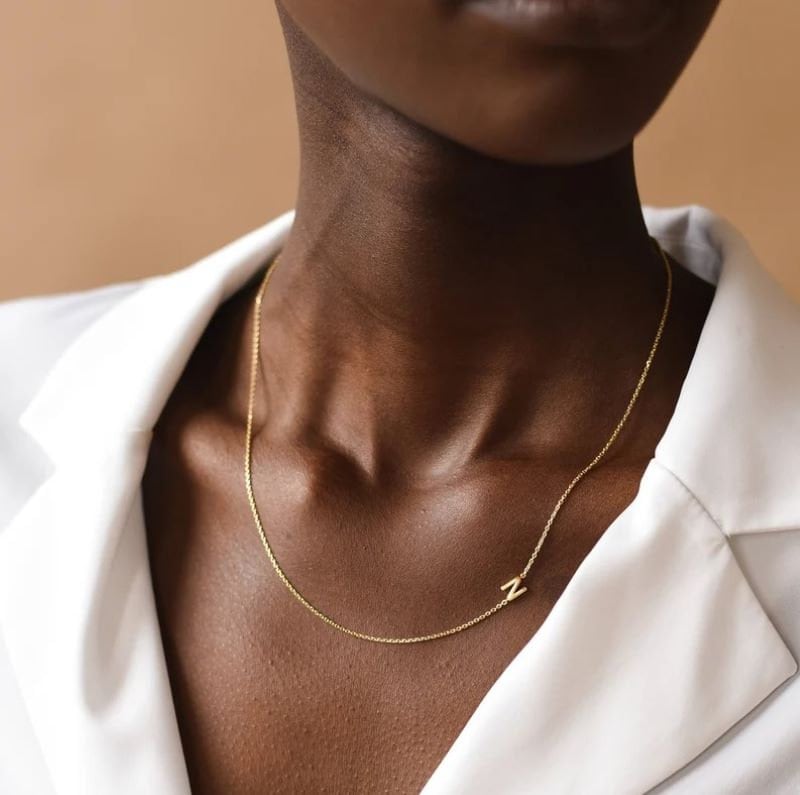 SHOP: Custom initial necklace from Grace Personalized, from $54
This affordable maid of honor gift idea is available in either 925 sterling silver, 18K gold vermeil, or rose gold vermeil, and is handmade in Los Angeles. "Such a beautiful necklace," expressed one shopper. "The chain is very dainty, and the size of the letters look great with it." Buyers also praised the quality and the fast shipping.
16. Mini pearl earrings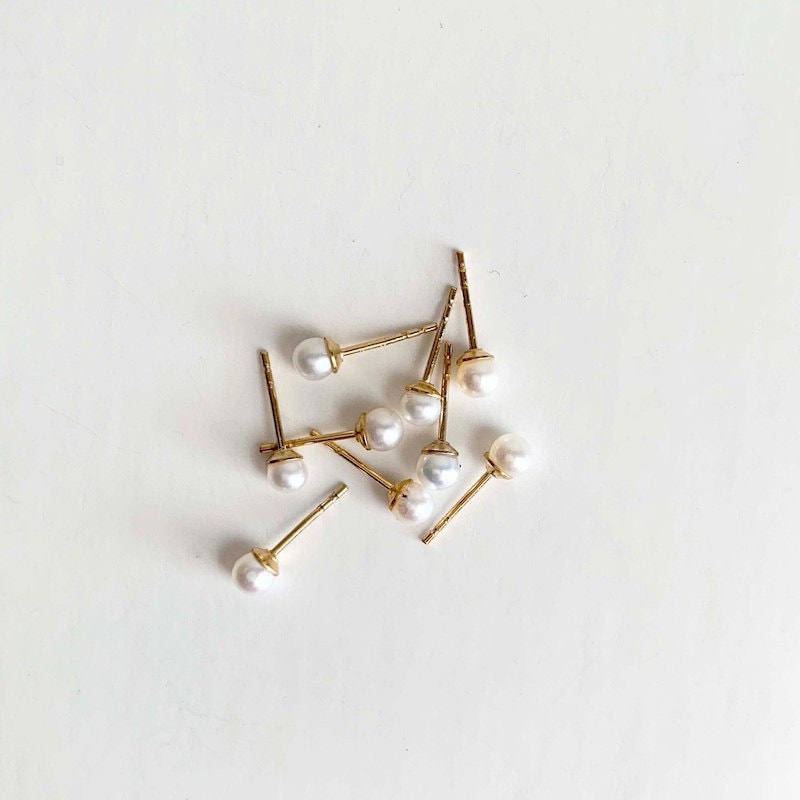 SHOP: Tiny freshwater pearl earrings from Gem & Blue, $42
For a touch of understated glamour, these tiny pearl earrings add elegance to any everyday outfit. Featuring real freshwater pearls with 14K gold fill components, buyer reviews call them "so cute," "dainty and delicate," and mention that "they're very versatile, and will work super well for ears with multiple piercings."
How do we pick the best maid of honor gifts?
As Etsy Journal editors and contributors research and curate shopping guides for some of the best-loved items on Etsy, we thoughtfully consider the creativity, customization, and craftsmanship that go into each product. We also consider buyer reviews, item ratings, and customer service, and tap the expertise of our in-house merchandising and trends experts to uncover high-quality finds for every budget. You can find more information about each item in the seller's listing details and can take a look at their individual shop policies and reviews, too.