Shower your workplace pals with appreciation—and these thoughtful thank you gifts for a job well done.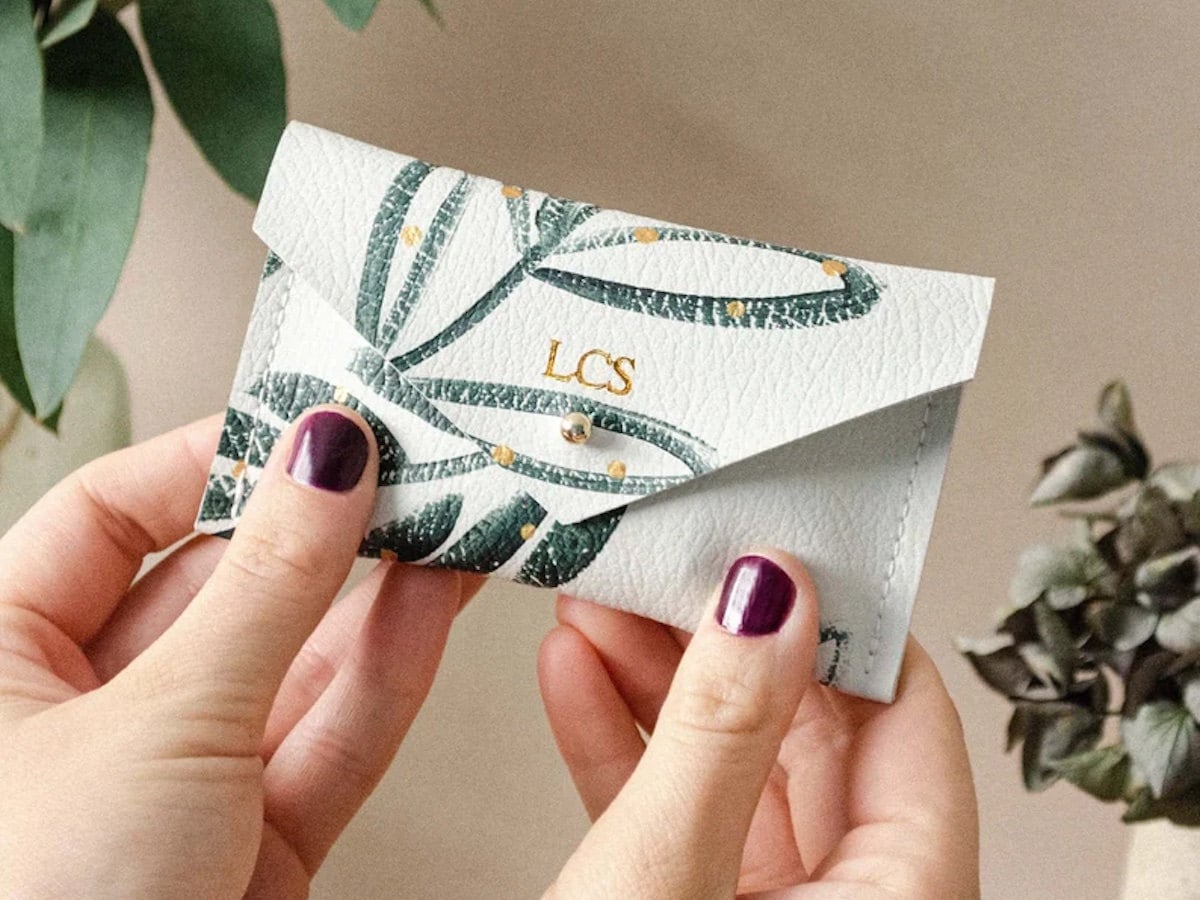 Some of the best friendships in life are often a pleasant surprise and come in the form of a coworker. While you may not have been actively looking for a good friend for life, that's exactly what you received. To show your dear friends just how much you appreciate all those workplace giggles, wrap up one of these coworker gift ideas to say thank you.
1. Stemless wine glasses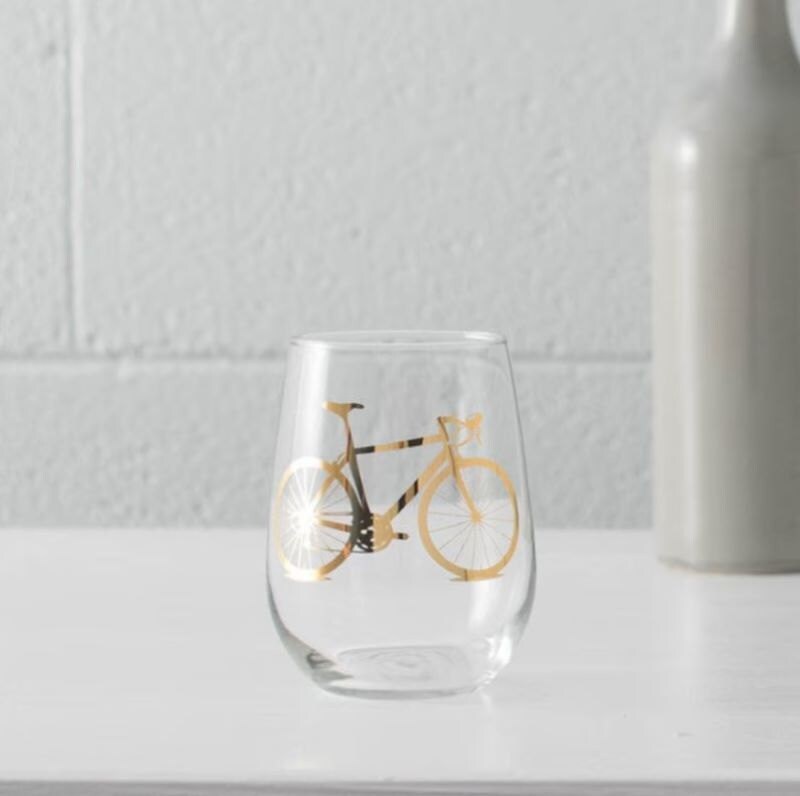 SHOP: Set of 2 bicycle wine glasses from Vital, $38
After a long day of work, a large glass of wine is in order. This set of two stemless wine glasses with a bright and shiny metallic finish—just like their personality—are a great coworker gift idea. Buyer reviews call them "beautiful," "great quality," and point out that shipping was fast.
2. Thank you candle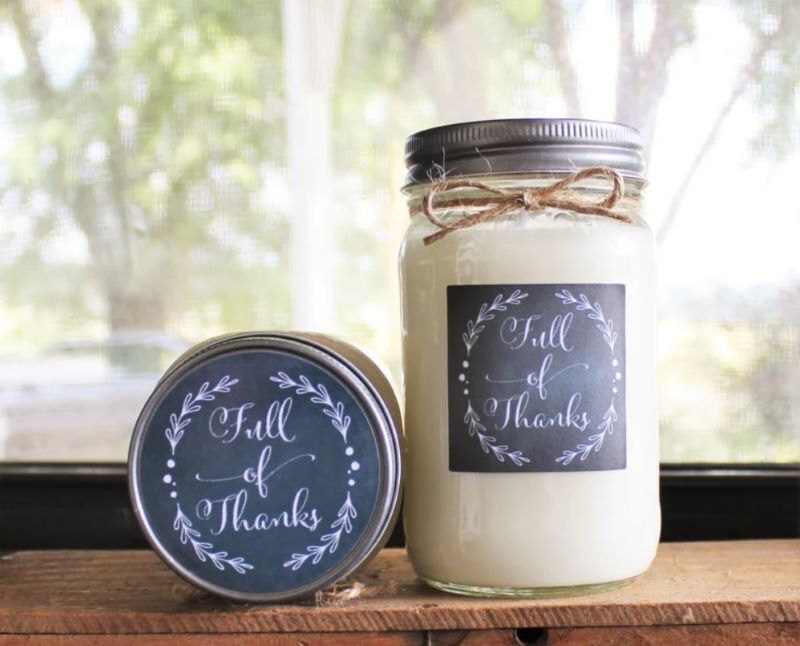 SHOP: Chalkboard soy wax candle from The Dancing Wick, from $17
Whether they're always on the hunt for the best candles or simply have a blank spot on their desk that could use a little decor, reach for this deliciously scented soy candle, available in more than 30 scents. Add your own special message to this coworker thank you gift using the chalkboard label.
3. Engraved photo holder with custom message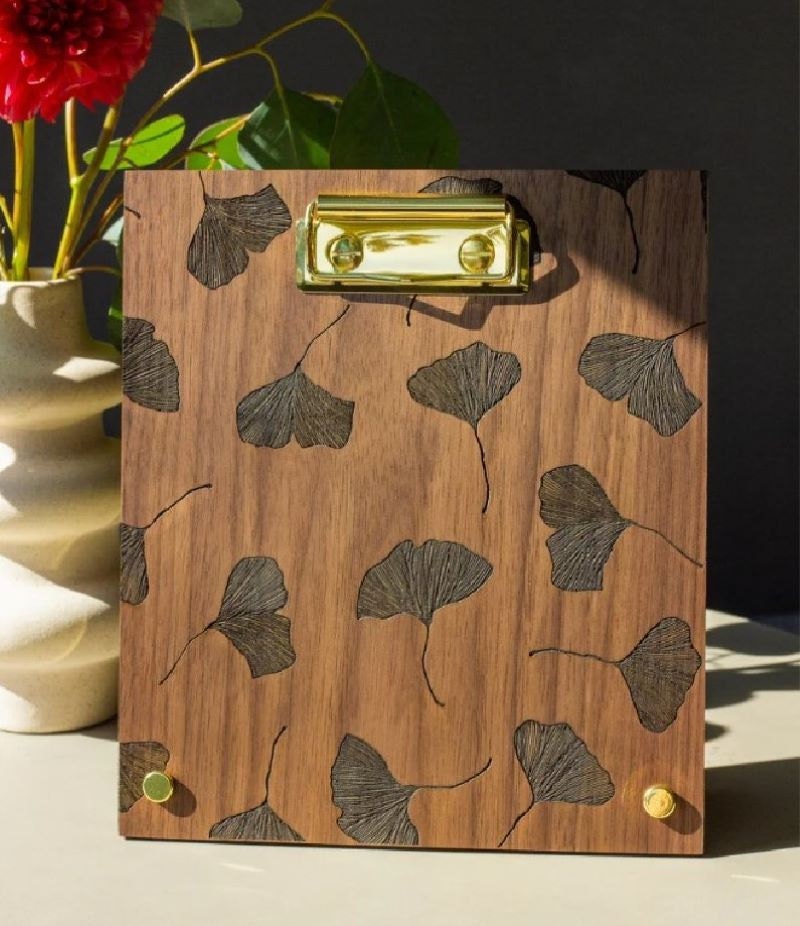 SHOP: Ginkgo leaves wood photo holder from Hereafter, from $54
Attach your favorite photo from the most recent company outing or an inspirational quote to brighten their day to this engraved walnut wood photo holder. The beautiful brass clip makes it easy to spotlight a different photo with a quick swap, and when your coworker flips this frame over they'll spot a handwritten message from you, engraved into the back of the frame.
4. Personalized business card case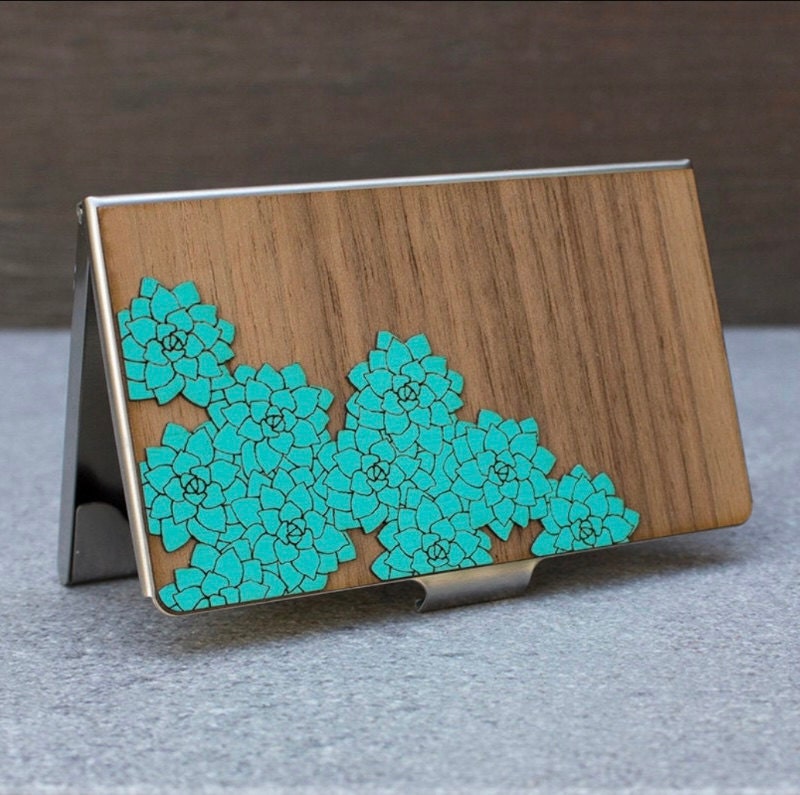 SHOP: Flower business card case from Treeline & Tide, $38
For a practical yet unique gift for a coworker, this personalized business card case ticks all the boxes. Adorned with turquoise laser cut geometric flowers, this case can be customized with your coworker's name. One customer review shares, "Even more beautiful in person! I've gotten heaps of compliments!"
5. DIY bourbon and rum infusion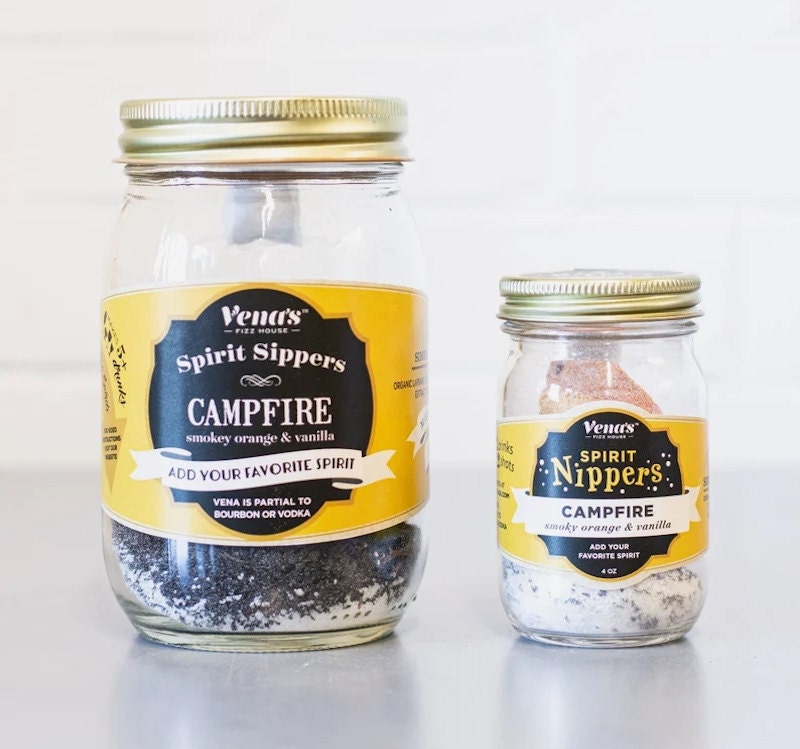 SHOP: Campfire DIY bourbon and rum infusion from Vena's Fizz House, from $10
Get your friend happy hour-ready with this cocktail infusion kit. A perfect gift for bourbon lovers, this rum and bourbon infusion "smells just like a campfire" and "leaves a really good aftertaste" according to buyer reviews.
6. Custom wine bag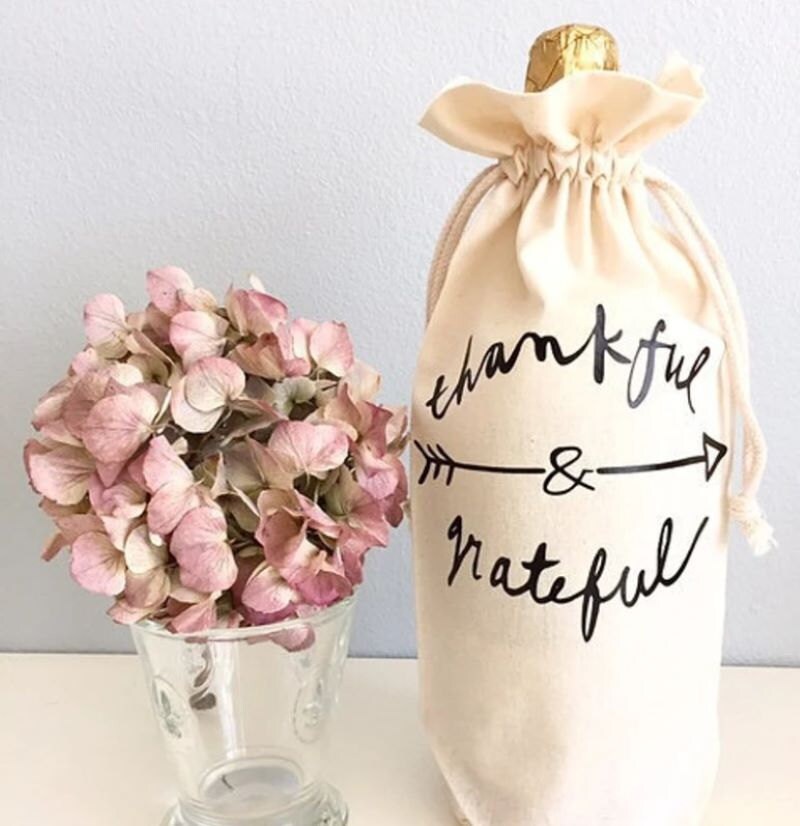 SHOP: "Thankful and Grateful" wine bag from Graceful Greeting Co., $10
By now, you'll surely know your dear coworker's favorite beverage. Simply grab their preferred varietal and place it in this reusable drawstring bag, available in 13 colors and clearly labeled to express just how "thankful" and "grateful" you are for them.
7. Wooden letter board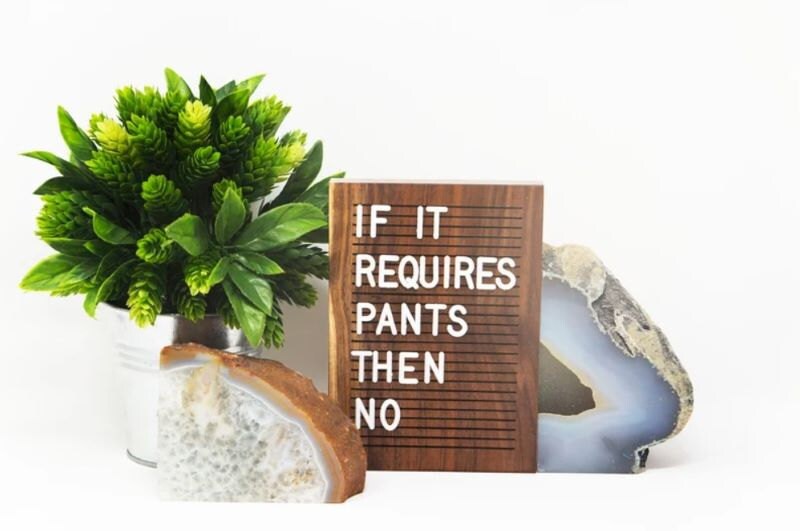 SHOP: Handcrafted walnut letter board from Knot Knot Outfitters, $29
A fun choice for a white elephant gift exchange, this cute letter board is a great coworker thank you gift any time of year, especially when you add your own sweet message.
8. White speckled stoneware planter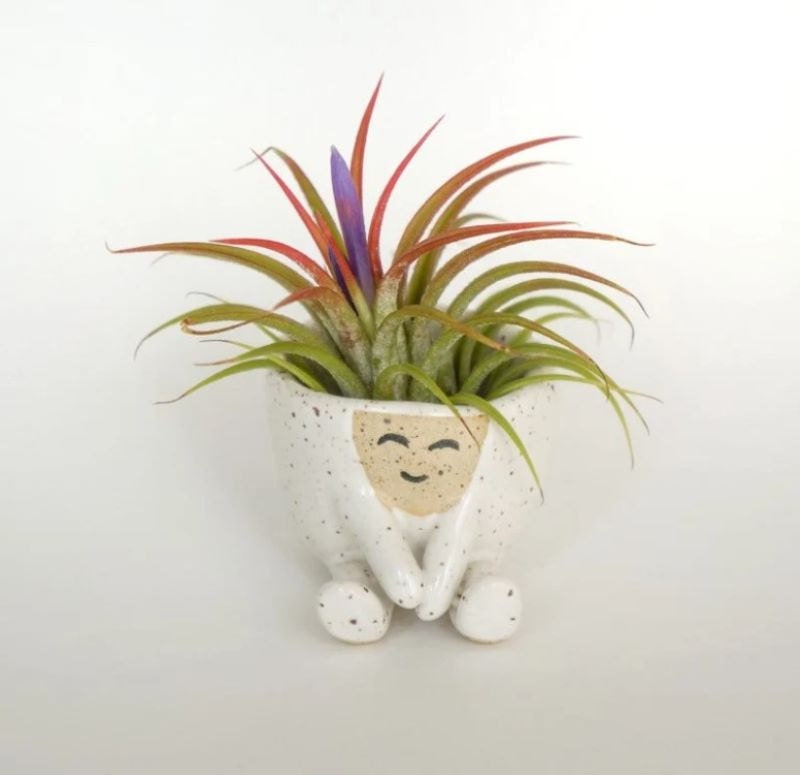 SHOP: Baby Maya air plant holder from Ceramic Sense, $60
Is your coworker a serious plant lover? Add a little greenery to their desk with this sweet little air plant holder. Named "Baby Maya" by the seller, this planter is ideal for a mini succulent and can look great on even a small desk space. "I love this tiny planter so much; It is seriously the cutest," says one customer review, and another added, "They're so well made and by far one of my favorite additions to my room!"
9. Terrazzo pen pot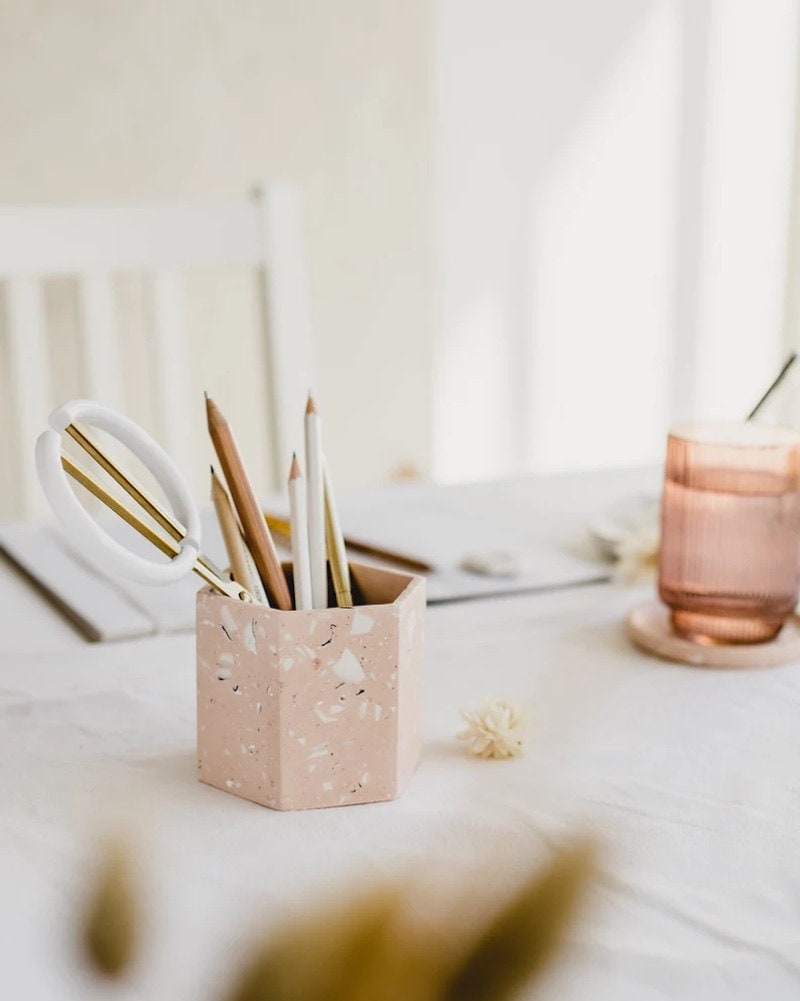 SHOP: Subtle plaster pink hexagon pot from Badger & Birch, $32
Made from recycled materials in a small shop in the quaint riverside town of Falmouth in the UK, each of these pink hexagon pen pots is embedded with terrazzo reclaimed oyster shells and is beautifully unique.
10. Ceramic monogram mug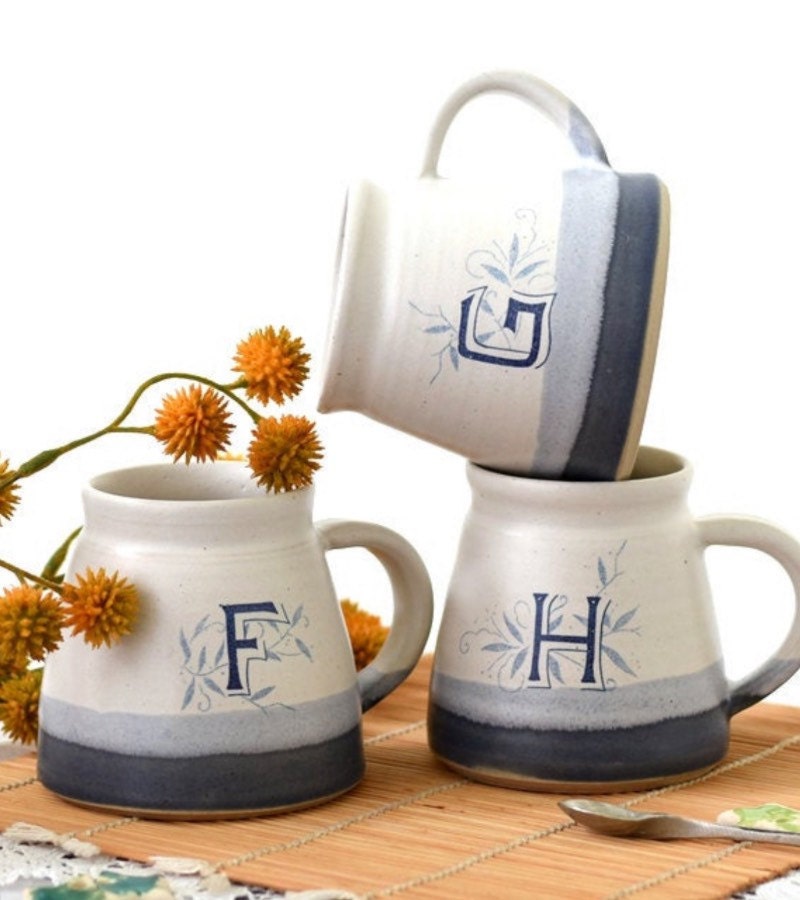 SHOP: Handmade blue and white ceramic mug from ZAN+ME, $34
With their very own initial coffee mug, your coworker will no longer have to drink their morning cup of joe from the office logo mugs. "Absolutely gorgeous mugs," wrote one happy buyer. "Arrived on time and shop owners were very easy to communicate with." Another customer review describes this gift as a "super mug" that is "better in real life."
11. Personalized wooden pen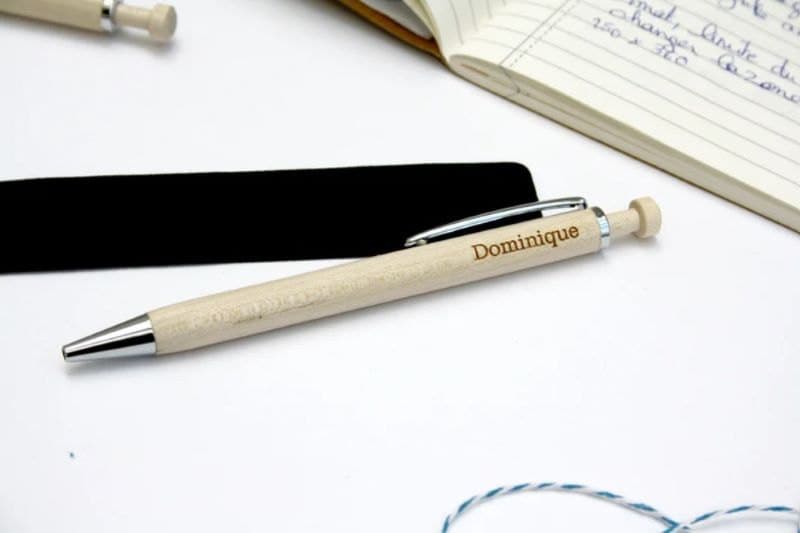 SHOP: Custom wooden pen from L'atelier des cadeaux, $14
For something small, economical, and useful, opt for this personalized wooden pen that comes with its own velvet pouch. Make this coworker gift extra special by adding their name or a message of your own, engraved on the side. Buyers love how each pen comes beautifully wrapped in gift paper and praise the fast turnaround.
12. Handmade photo easel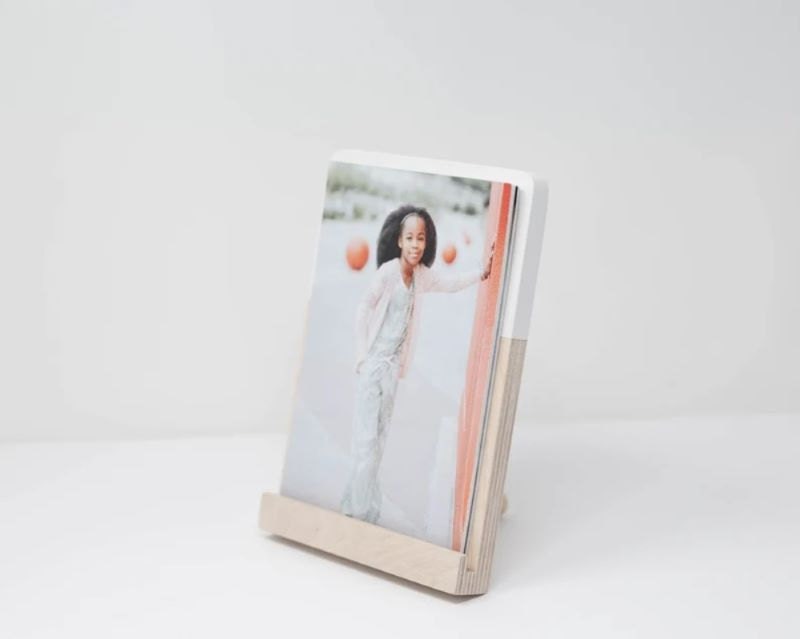 SHOP: White hand-painted desk photo easel from The Heart Department Co., $33
From photos or special mementos, or even work-related necessities like to-do lists and calendars, this modern easel can hold several items at once and is an a thoughtful and practical gift for coworkers.
13. Acrylic desk sign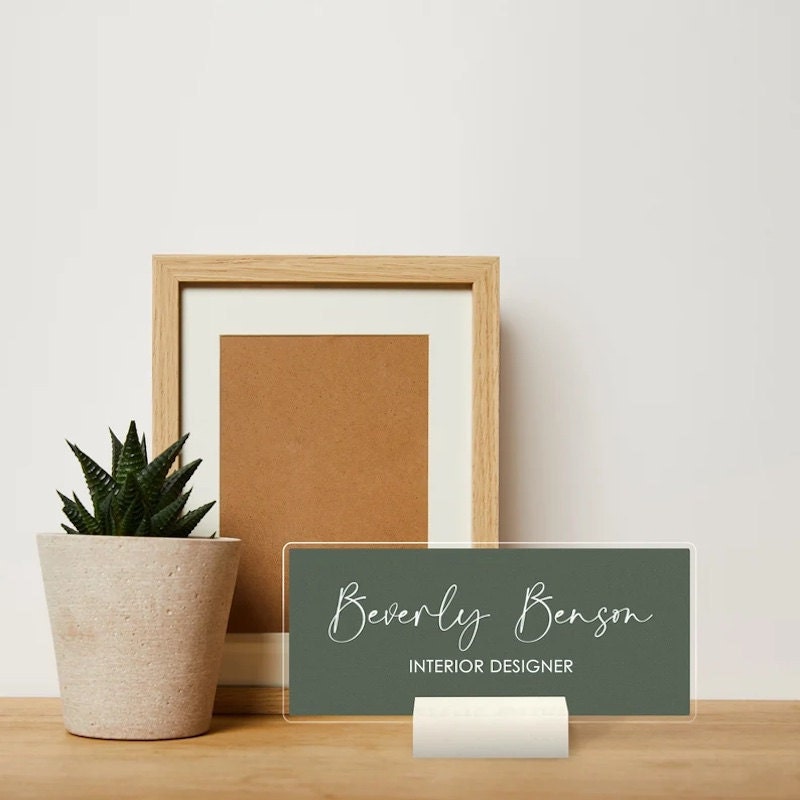 SHOP: Acrylic desk sign from Toaste Shop, $30
Choose the color and design style for this personalized nameplate, and present this coworker thank you gift proudly, knowing you worked with a small business to create this unique piece of desk decor especially for them.
14. "Blossom" tea blend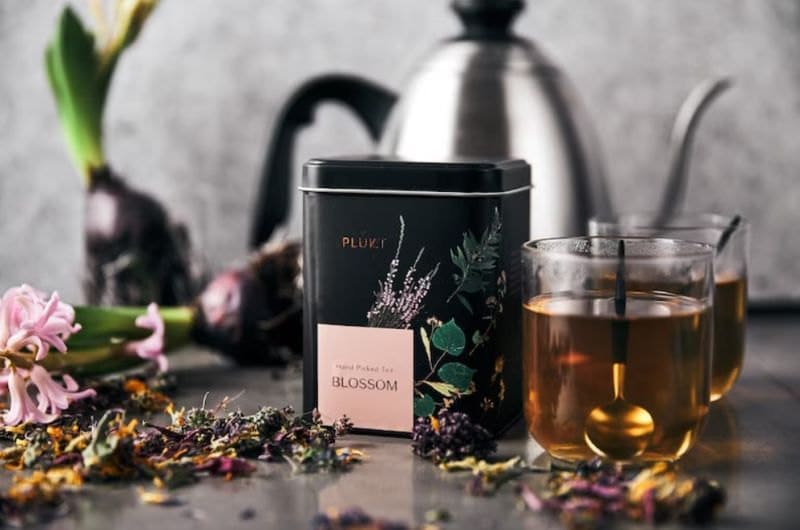 SHOP: Hand-picked tea blend from Plukt Tea, $15
If you're trying to get your coworker to cut down on the coffee (especially in the afternoon), this tea set is just what the doctor ordered. Available in either a loose tea option or pyramid bags, the Blossom tea comes in a gorgeous floral patterned tin that is a keeper and can be repurposed when the tea finishes.
15. Personalized leather card holder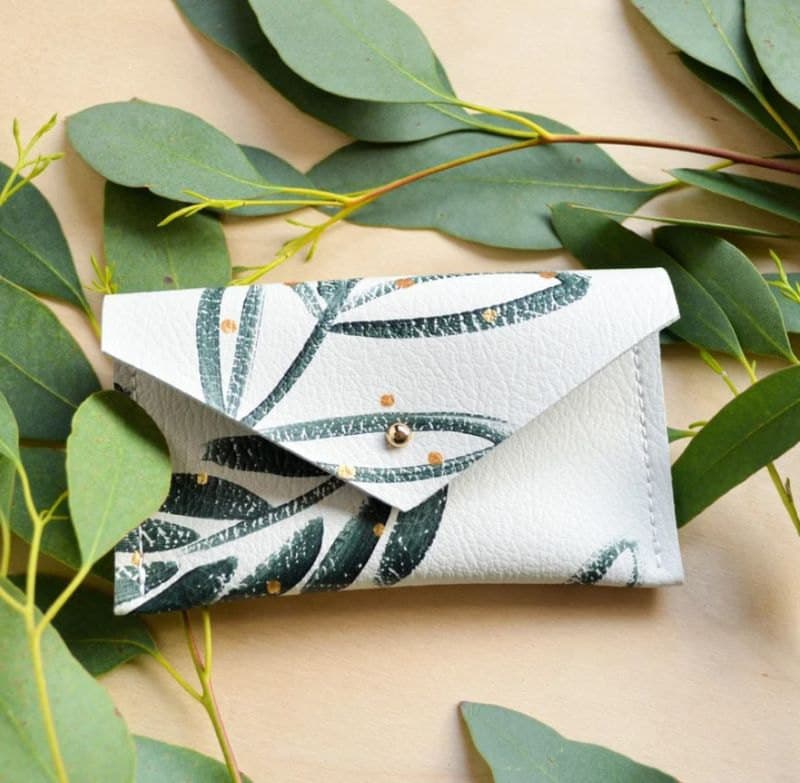 SHOP: Green botanical recycled leather card holder from Studio Lowen, from $18
With the option to add personalization, this small recycled leather card holder is a useful gift that can also be used as a coin wallet. "I'm so proud to tell people that this leather is recycled," says one buyer review. "It fits so many cards that I can have contingency cards and not just essentials. The option to add my initials is super classy. And the painting and craftsmanship is gorgeous!"
16. Strawberry margarita cocktail kit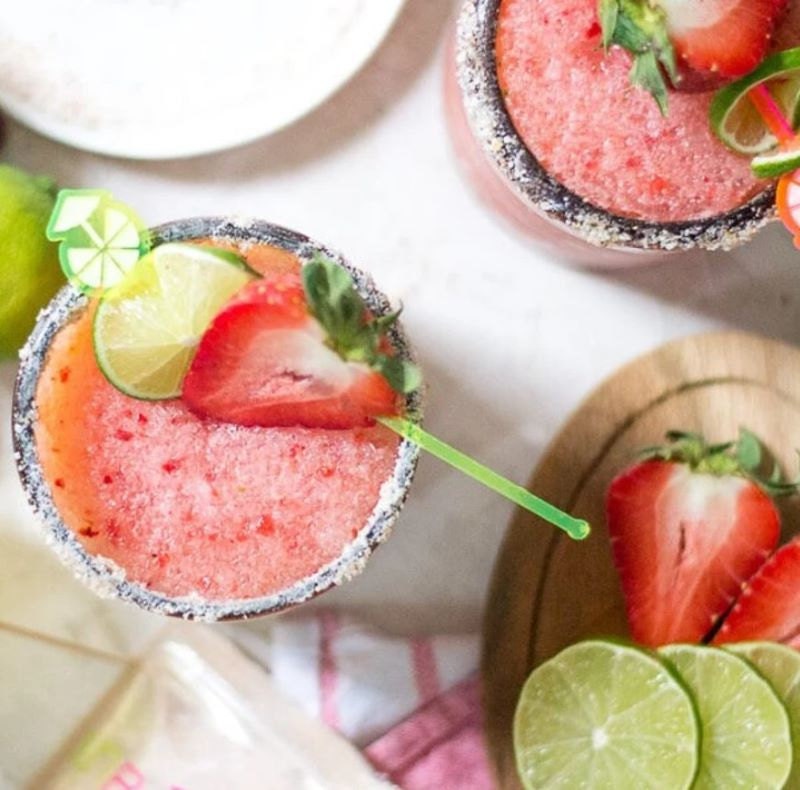 SHOP: Handmade cocktail kit from InBooze, $18
After a long week, this coworker gift sets your pal up for a great weekend. They'll be excited to infuse their own tequila cocktails with this strawberry margarita kit, perfect for summer after-work happy hours. One customer review calls these kits "amazing! Great quality, easy to use and tastes wonderful. Great gift idea too!"
17. "Thank you so matcha" greeting card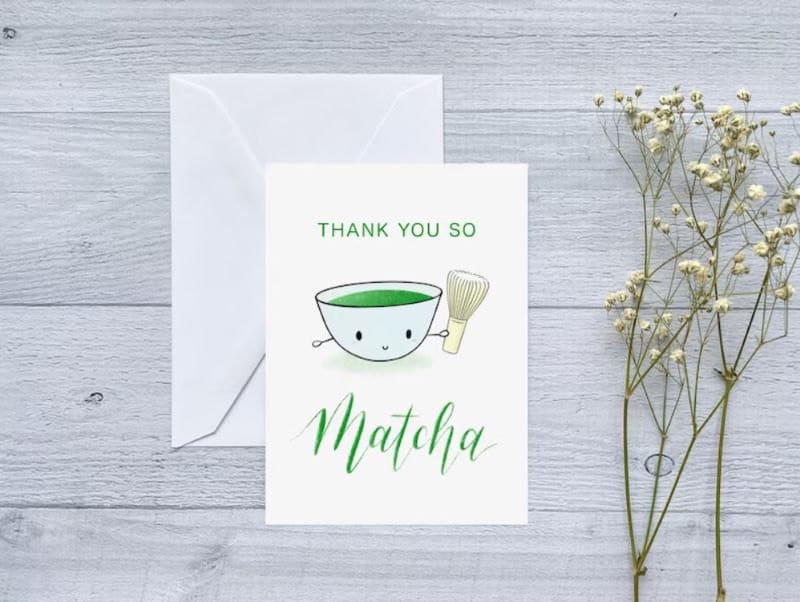 SHOP: "Thank You So Matcha" greeting card from Kela Designs Co, $5
To accompany a coworker thank you gift or even just to give on its own, this adorable matcha-inspired card is a unique way to express all your heartfelt sentiments of gratitude. Buyer reviews called these cards super cute and mentioned that shipping was prompt.
18. Custom hexagon pencils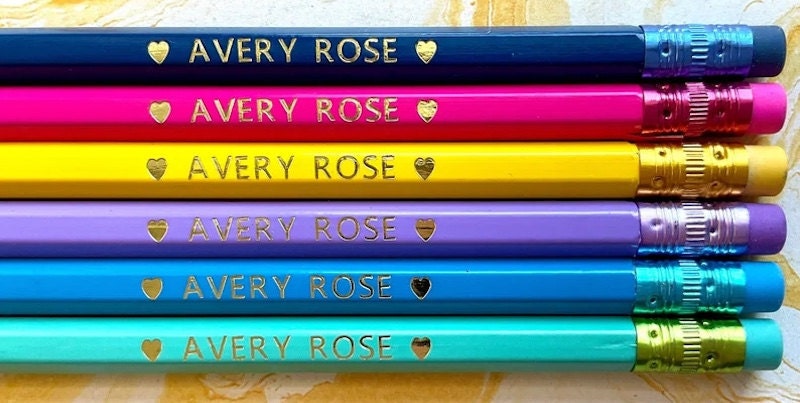 SHOP: Personalized gold foil stamped pencils from Vesta Designs Pencils, from $11
Most professions require the use of a set of pens or pencils at some point, so this personalized set of colorful pencils with matching erasers—available in an array of colors and in whatever quantity you want—will not only be appreciated, but will come in handy, too. "The pencils look just as pretty in person as they do in their picture," expressed a happy buyer. "The colors are so lovely and the engraving came out really well-very clear and easy to read."
19. Funny notebook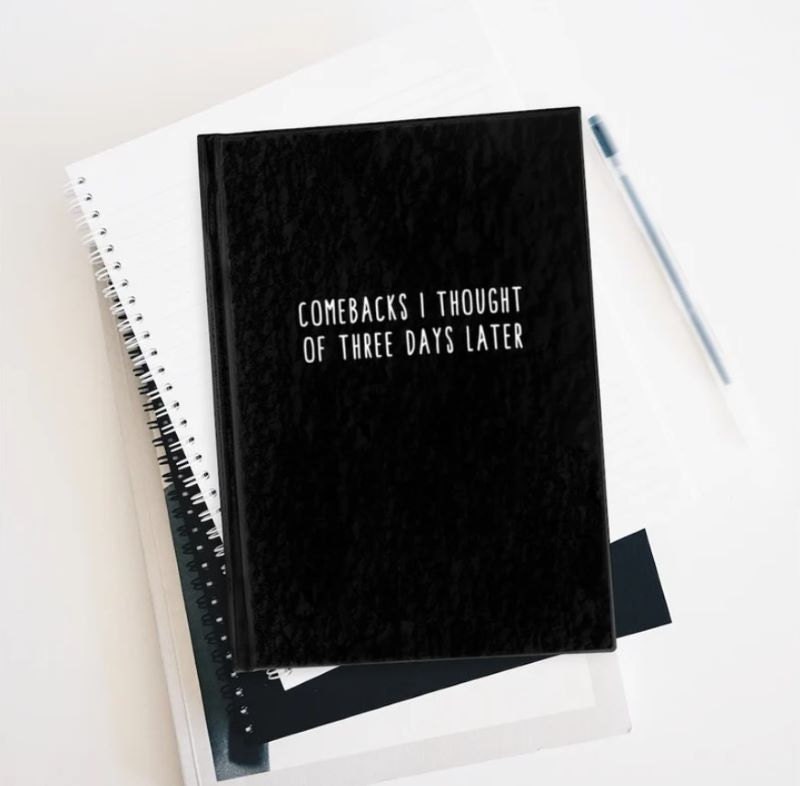 SHOP: Funny custom journal notebook from Small Street Journals, from $16
Whether they want to use this quirky journal to jot down their current to-dos or essential meeting notes, the motto on the front is sure to make them chuckle. It's available in either spiral-bound or hardback, and customers say it's great for everyday use.
20. Handcrafted lotus pond journal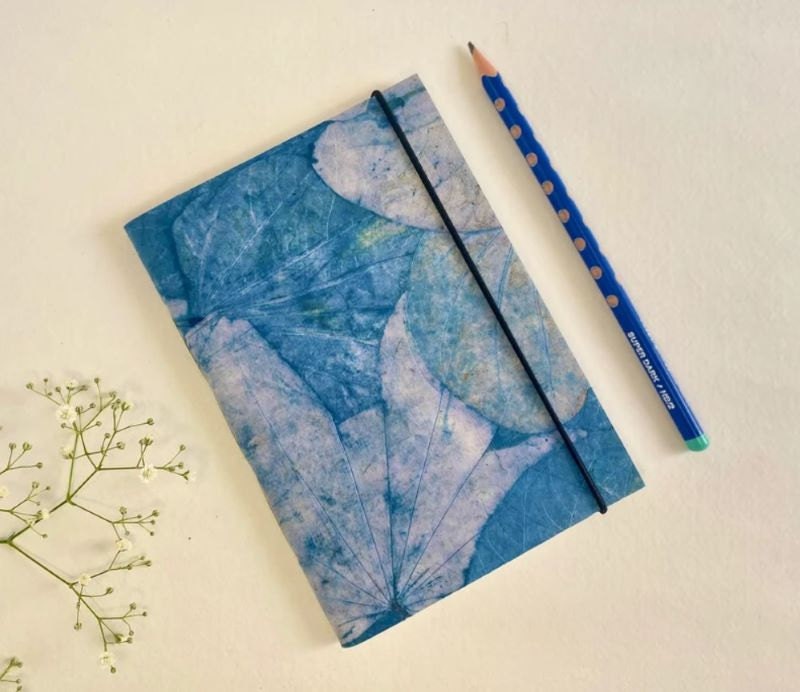 SHOP: Handmade lotus pond diary from Nspire By Nature, from $18
Handmade using recycled paper and painted using imprints from fallen leaves, this beautifully crafted notebook will keep their hopes and dreams safe and sound. An elastic closure allows them to fill it with additional notes and papers, then close it tight.
How do we pick the best thank you gifts for coworkers?
As Etsy Journal editors and contributors research and curate shopping guides for some of the best-loved items on Etsy, we thoughtfully consider the creativity, customization, and craftsmanship that go into each product. We also consider buyer reviews, item ratings, and customer service, and tap the expertise of our in-house merchandising and trends experts to uncover high-quality finds for every budget. You can find more information about each item in the seller's listing details and can take a look at their individual shop policies and reviews, too.